Biden's 2023 Budget Proposal Is Out — Here's What Families Need to Know
Families got some shout-outs in Biden's 2023 budget proposal.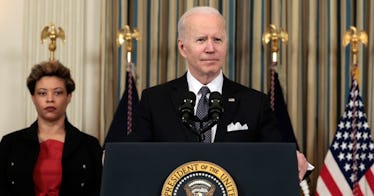 Anna Moneymaker / Staff / Getty Images
President J
oe Biden's 2023 budget proposal is hot off the presses, and it reflects the multitude of obstacles facing the country in the coming year. Addressing climate change, infrastructure, public health, defense spending, and national security, the President's budget, if passed as is, has some good news for families in the realm of maternal health, education spending, and youth mental health.Though President Biden's proposal is ambitious, it's ultimately up to Congress, and there's little doubt that the budget that is ultimately approved will more closely follow the congressional agenda than the President's. Here's what Biden's $5.8 trillion budget proposal has in store for America's families as it stands.
What Biden's Budget Proposal Will Mean for Families
The President is doubling down on his promise to address youth mental health, increase affordable housing options, expand access to child care, and bolster programs aimed at improving maternal health, especially in marginalized communities. Though not monetary budget line items in the budget proposal, the official budget document did make a noted commitment to the other items that were in Biden's human infrastructure plan in 2021 that would have made paid leave and an extension of the child tax credit possible, among other major investments in the social safety net that would have transformed American families if it weren't for moderate Dem opposition. "The President is committed to working with Congress to sign legislation that… [cuts] costs for prescription drugs, healthcare premiums, child care, long-term care, housing, and college; reducing energy costs by combatting climate change and accelerating the transition to a clean energy economy; supporting families by providing access to free, high-quality preschool, up to two years of free community college, nutritious food at school and resources to purchase food over the summer months, and paid family and medical leave and by continuing the enhanced Child Tax Credit," among other priorities. Here's what else you need to know.
Key Line Items In Biden's Budget Outline
$470 million to increase maternal health programs in rural communities, address maternal mortality and morbidity rates in communities of color, initiate implicit bias training for healthcare professionals, and increase funding for the Maternal, Infant, and Early Childhood Home Visiting Program, which works with over 70,000 families who are at risk for maternal and child health problems and has been proven to improve maternal and fetal health outcomes.
$20.2 billion to the Department of Health and Human Services early childhood education initiatives, an increase of over $3 billion from last year. This would provide additional funds to the Child Care and Development Block Grant, which provides access to affordable child care, increase funding for Head Start programs, and provide grants to states to improve early childhood education programs.
Additional funding in youth mental health and suicide prevention programs, as well as funding loan forgiveness programs for behavioral science studies to fill the ranks of mental health providers in underserved communities. $1 billion is earmarked for funding an increase in school mental and physical health providers like counselors, nurses, therapists, and social workers.
$81.7 billion over 5 years to fund the government's ability to fight the next pandemic
funding to help the foster care system "keep families safely together," and to "reduce the number of children entering foster care"
$50 billion for housing construction and supply to bring up the stock of housing and lower exorbitant rent and home-ownership costs, as well as grants to remove barriers to building more affordable housing on a local level
$372 million to strengthen the supply chain — an increase of $206 million from 2021
$17 billion to bolster climate science research; $18 billion to help communities deal with wildfires and flooding that have been exacerbated by climate change; and $11 billion to aid other countries in the transition to clean energy, $200 million for new Solar manufacturing
$36.5 billion for Title I schools, more than double the amount from last year.
Doubling maximum Pell Grant amounts, beginning with a $2,175 increase for the 2023-2024 school year.
A $31 billion increase in defense spending, for a total of $813 billion for defense and national security concerns.
Significant investment in services to combat the opioid epidemic.
Where Will The Funds Come From?
To cover this landmark budget proposal, and to reduce the national deficit by over $1 trillion in the next ten years, the Biden administration is taking a page from the Progressive agenda and proposing new taxes for the ultrawealthy and corporations.
20% minimum tax for households who earn over $100 million.
Increase the top individual tax bracket to 39.6%
Increase the corporate tax rate from its current 21% to 28%.
Repeal certain tax breaks for oil and gas providers.
Will All of These Policy Priorities Actually Happen?
The executive budget proposal is just that, a proposal. It serves as a reminder to Congress of the President's priorities and where the legislature should focus its attention when ratifying the budget for the upcoming fiscal year.