Joe and Jill Biden's Nightly Dinner Ritual Is A Legit Marriage Hack
The secret to a long and happy marriage? Uninterrupted quality time.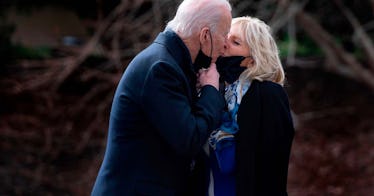 Getty
For President Joe Biden and his wife, Dr. Jill Biden, this isn't the first time they've had to make a life in the political spotlight. But there's likely a far larger pressure on them individually and as a couple now that Joe is President. The two are probably busier than ever. But ask any married couple, and they'll tell you that when you're at your busiest at work, that's when you need your partner more than ever.
It's easy to have the relationship get lost in the shuffle. But the way the Biden family make sure to connect each day is a marriage hack more of us need to practice.
On Feb. 25, 2021, Jill Biden spoke with Kelly Clarkson on her talk show. The two touched on everything from Kelly's divorce, Jill's fashion, and how the first lady and president make time for each other. Despite their busy schedules, there's always a moment for the two each day, thanks to a longstanding tradition between them.
"How have traditions in general really helped your family?" Kelly asked Jill. "Because now you and President Biden have a date night … y'all have dinner every night?"
Jill acknowledged that although the two have very packed schedules, they always set aside time at dinner. Without their phones going off, too.
"He's so busy, I'm so busy, but we do keep dinner. We have dinner together, no phones — the phones have to be off — and now we're having dinner in this beautiful home, and there's a fireplace in the dining room, and they light the fire, and we just sit and talk for a while," Jill explained.
"And then he has to go back to work into the night, and I'm grading papers," she said.
It's beautiful to hear this. Both are probably busier than they've ever been, yet Joe and Jill continue to make each other a priority. And it's a lesson we really need to hear now, too. Over the past year, parents have had to juggle more on their plates each day. The lack of time can seem suffocating during life's busiest weeks.
But, if the United States president and the first First Lady to hold a job on top of everything she juggles for the country can make it work – we can find the time, too.
This article was originally published on