Biden Cancels Debt For 800,000 More Borrowers
The Biden administration's Department of Education announced it is canceling $39 billion in debt for more than 800,000 borrowers.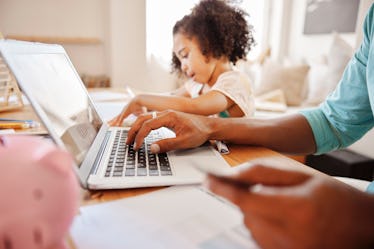 katleho Seisa/E+/Getty Images
On Friday, July 14, the Biden administration's Department of Education announced they were canceling $39 billion in debt for more than 800,000 borrowers. The forgiveness, the first round of a one-time Income-Driven Repayment (IDR) program adjustment, is part of a promise made by the Biden administration last year, following investigations that found many borrowers who should have qualified for cancelation through IDR were held back from doing so.
"After years of campaigning and advocacy, it is a huge victory that nearly a million borrowers who have been trapped in decades of never-ending payments will finally get the relief Congress intended," Persis Yu, Deputy Executive Director and Managing Counsel at the Student Borrower Protection Center said in a press release.
The Biden administration said bureaucratic issues led to the mismanagement of low- and middle-income borrowers with IDR plans. These issues — which included lost paperwork, processing delays, difficulty in applying, and interest growth — prevented borrowers from getting their loans canceled despite qualifying through consistent payments, per the Federal Student Aid office.
According to the Biden administration, this is just the start of the plans to cancel, in part or in full, federal student debt loans for people who qualified for or were enrolled in the Income-Driven Repayment Program. This round of cancelation most likely is going toward those who have been in repayment long enough to qualify for total forgiveness — or those who have been in repayment for 20-25 years. More cancelations are coming. Some borrowers will see their accounts wiped clean, while others will see their loan balances slashed significantly.
Borrowers who qualify for this round of cancelation have a Direct Loan or Federal Family Education Loan (including Parent PLUS) and "have reached the necessary forgiveness threshold as a result of receiving credit toward IDR forgiveness for any of the following periods:
Any month in which a borrower was in a repayment status, regardless of whether payments were partial or late, the type of loan, or the repayment plan;
Any period in which a borrower spent 12 or more consecutive months in forbearance;
Any month in forbearance for borrowers who spent 36 or more cumulative months in forbearance;
Any month spent in deferment (except for in-school deferment) prior to 2013; and
Any month spent in economic hardship or military deferments on or after January 1, 2013."
"... Make no mistake — over 804,000 people are receiving relief with this action because of 804,000 failures — and this is only the tip of the iceberg," Yu said in her statement. "Working people with student loan debt have been made collateral damage by a dysfunctional student loan system. Just like we saw with Public Service Loan Forgiveness, our student loan system is riddled with structural incompetence, and vulnerable, low-income, and Black and brown borrowers face the harshest effects."
The Biden administration will notify borrowers in the coming days via email if their loans are canceled, and loan discharges will begin 30 days after emails are sent to borrowers.
In the meantime, to see if you qualify for the latest round of debt cancelations or might qualify for further IDR adjustments, visit StudentAid.gov for more details.