Biden's 2022 Budget Proposal Is Big Win For Families
The budget outline, released by the White House on Friday, is little more than a priority list for the administration. But there are some good priorities.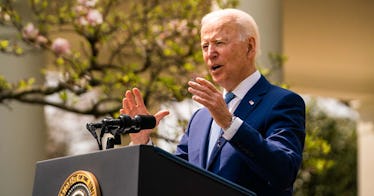 Getty
On Friday, the White House released an outline of another major spending package pushed by President Joe Biden. The President has outlined his plans for the fiscal year of 2021 — and he clearly wants to tackle infrastructure issues, child care, climate change, racial inequities in health care and housing, education funding, and more.
The plan outlines what Biden wants to do in 2022 — and is separate from his $1.9 trillion COVID-19 stimulus package and his $2 trillion-plus infrastructure and jobs package he put out weeks ago and is also separate from a social-spending package that Biden will introduce before the end of his first 100 days in office, Bloomberg reports. The budget is 8.4 percent larger than the 2021 fiscal year budget as it was enacted.
Here's what Biden asked for — and what the budget request even means.
Why the new Biden Budget is good news for families
Among many other things, Biden's budget is focused on more funding for schools, as well as billions in child care money. He's also proposing a larger focus on housing for a variety of underserved demographics, billions in health care, in particular for people of color, and focusing on making infrastructure work for families.
What's actually tn the Biden Budget Outline?
There's a lot in this plan, and writing it all up would take, say, 58 pages (like the White House proposal is.) If it's to be seen as a statement of Biden's priorities, they seem to be very clear. Investment in families, schools, health care, farmers, workers, climate change, and international threads abound in the bill.
Some key measures we found in the budget proposal that matter for families include, but are not limited to:
$14 billion more for climate change than in 2021
Double the federal funding on Title I schools
$8.7 billion to the CDC for future health crises
$753 billion for defense programs
$19.8 billion to HHS child care and education programs
$1.4 billion increase to National Oceanic and Atmospheric Administration — $600 million to electric vehicles for government agencies, and $800 million to make public housing more energy efficient
$113.2 billion boost to the IRS to boost oversight of corporations, wealthy taxpayers, improve service, as well as a multi-year allocation of funds for audits
$10.7 billion in opioid epidemic funding
$2.1 billion for the Department of Justice to fund gun violence prevention programs
$2.2 billion increase to health programs, equity to Native Americans, including $900 million for affordable housing for tribal areas
$27.8 billion for the USDA, including $65 million for broadband access, $717 million for wastewater infrastructure for rural communities
$6.7 billion to SNAP and WIC, other nutrition assistance programs
$200 million to reduce maternal mortality and health outcomes by race
$153 million to address racial disparities in health care
$85 million to address housing discrimination
Civil Rights office investment across the government
Major investment in environmental justice
Will It Actually Happen?
Probably not, at least not 100% as written, barring a mandate from heaven. These budget proposals are most commonly seen as a list of presidential priorities, with a number tag on them. They are not binding in any sense — but provide instruction to Congress on what the President would like the legislative body to focus on going forward.
Education, climate change, clean energy, funding government programs, and funding public health programs are clearly all on the list budgetary priorities for President Biden.
Whether or not this budget, with the exact hard numbers included therein, will actually become a reality once the 2022 fiscal year begins is another question and one that only time will tell the answer to.
This article was originally published on