Why Beyoncé Talking About Her Post-Pregnancy FUPA Drove the Internet Insane
A year after having twins, this mom in no hurry to give up her post-baby bump.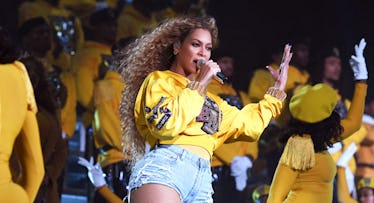 Getty
In the September issue of Vogue, Beyoncé graces the cover complete with her post-pregnancy FUPA, or fat upper pelvic (or pubic) area, just over a year after giving birth to twins. And while trolls have long taken pleasure in shaming moms for their natural post-pregnancy bodies, it turns out the mogul is as eager to embrace the classic marker of the mom-bod as the internet is.
The real reason people are treating FUPAs like the hottest accessory to have this fall is because Beyoncé is choosing to fully embrace the power of the FUPA instead of pretending like it doesn't exist. This is something most women who have given birth can relate to and seeing the world's most beloved superstar show off her dense, fatty, lower abdomen pouch will hopefully allow new moms everywhere to feel pride towards their own FUPAs.
"I have a little mommy pouch, and I'm in no rush to get rid of it. I think it's real. Whenever I'm ready to get a six-pack, I will go into beast zone and work my ass off until I have it," Beyoncé told Vogue, which release their digital issue this week. "But right now, my little FUPA and I feel like we are meant to be."
There's a middle ground between beast mode and feast mode, and that's where most moms are exactly meant to be after having babies, along with their FUPAs, otherwise known as their panniculus. As much as the medical term makes it sound like a sketchy tech company, it's actually a very common result of loose tissues after pregnancy. Also referred to as an apron, panniculus is composed of varying amounts of subcutaneous fat, or superficial fat that does not sit on top vital organs, depending on the size of the FUPA.
While it is not clear how common FUPAs are, the number of message board threads combined with the positive response to Beyoncé at least suggest that most women experience this at least temporarily, and reading a high fashion publication can't protect them from the word. Since it can be caused by dramatic weight loss, men are not immune to the FUPA either, though Jay-Z may not be as quick to write a love letter to his.
Of course there are ways to get rid of that little pouch — mainly, healthy eating, physical activity, and time. But for someone in the public eye with the net worth of $350 million, it's easy to assume Beyoncé would opt for a panniculectomy, which is slighting different from a tummy tuck because it's not technically considered cosmetic surgery. The procedure, which removes excess fat costs between $8,000 and $15,000 would make sense for someone with her resources and level of fame, as the pressure of being in the public eye is intense and, at times, unforgiving.
Instead, Beyoncé appears to be content to let tabloids speculate about her being pregnant again, while she proudly shows off her FUPA to the world. It may not be a baby bump, but, for now, it's a part of the family.