Bookies Bet Big on Baby Names for Meghan and Harry's Daughter
There is one clear favorite.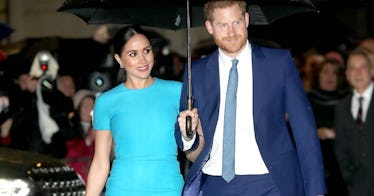 LONDON, ENGLAND - MARCH 05: Prince Harry, Duke of Sussex and Meghan, Duchess of Sussex attend The Endeavour Fund Awards at Mansion House on March 05, 2020 in London, England. (Photo by Chris Jackson/Getty Images)
Prince Harry and Meghan Markle are set to add another member to their family, as the couple announced in February that Markle was pregnant and would be giving birth to their second child this summer. And in their infamous interview with Oprah, the couple officially announced the sex of their baby, saying that they would be having their first daughter.
Naturally, the betting community used this announcement as an opportunity to start making odds for possible baby names, as Royal baby name speculation has become a time-honored tradition. There are favorites so far, in case you decide you want to get in on the action.
The clear leader so far is Philippa, which would be a tribute to Harry's grandfather, Prince Philip, who passed away in April. Ladbrokes, a UK betting site, currently has Philippa at 3/1 odds. The odds for Philippa have skyrocketed over the past two months and it is now considered the obvious favorite.
"The support for baby Philippa is showing no signs of slowing down, and we've been forced to trim the odds again that it's the name for Harry and Meghan's daughter," said Jessica O'Reilly of Ladbrokes.
After Philippa, the most popular choice is Diana, the name of Harry's mother who died in 1997. Currently, Diana has 5/1 odds and was the favorite before Philip's death. Diana is followed by Elizabeth, Harry's grandmother the Queen, with 10/1 odds. Other popular choices include Alice, Alexandria, Allegra, Abigail, and Anne.
Of course, there is always the chance that a dark-horse candidate comes out of nowhere and is the name that gets picked, which is exactly what happened with Meghan and Harry's son Archie back in 2019. Plus, given Harry and Meghan's public separation from the Royal Family over the last year, they may be less inclined to name their child something with royal connotations.
Either way, if you're a betting man, you may want to (legally!) start a pool with some pals — just for fun, that is — if that's your type of thing.