This List Shows The Best States For Camping With the Family This Summer
This list — whether you want to believe it or not — suggests where you and your family should camp this summer.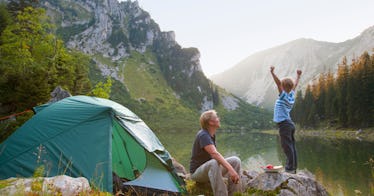 Henglein and Steets / Getty Images
Before we know it, summer is going to officially be here, and our plans for giving our kids memories to last a lifetime will be in full swing. If the bucket list this year includes camping, it's important to know that not all campgrounds are made the same. To help in choosing the best campground for this summer's fun, a new list shows which states are the best for family camping this summer.
Lawn Love wants to kick off the start of camping season by giving families a guide on which states have the best campgrounds. To do this, datasets from several places – including PlaygroundEquipment.com, Dicks Sporting Goods, AmericasStateParks.org, and AllTrails – Lawn Love ranked the 50 states from best to worst for camping based on a score out of 100 points.
The points are averaged across several weighted metrics including easy access to parks, costs of camping, quality of the park, easy access to camping supplies, and safety of the parks.
"We looked for states with plenty of high-quality campgrounds and easy access to state parks, national parks, and trails," Lawn Love states. "Safety and affordability levels also influenced the ranking."
Looking at the ranked data, it's not looking good for campgrounds on the east coast as several on the bottom of the list are on that side of the country. These states were ranked low because of low scores in quality, access, and safety metrics while the states that made the top of the rank list were because of high scores in access, quality, and supplies metrics.
"The West Coast is home to some of the country's most majestic camping experiences, with plenty of high-quality parks, trails, and gear for trekking through the incredible landscape," Lawn Love shares. And if you're looking to camp with your kids for the first time, and need some tips and tricks and games to make it actually fun for all involved, don't forget to look to the experts.
States with the lowest rank for camping:
50. Nevada with an overall score of 22.91
49. Alabama with an overall score of 27.28 48. Mississippi with an overall score of 27.96 47. Delaware with an overall score of 29.90 46. Rhode Island with an overall score of 31.21
States with the highest rank for camping:
1. California with an overall score of 63.09
2. Washington with an overall score of 51.51 3. Minnesota with an overall score of 49.91 4. Michigan with an overall score of 49.48 5. Florida with an overall score of 48.66
This is a good reference list for parents looking to book some much-needed adventure time that's also a little bit easier on the little ones. But hey, if your favorite state to camp in is Nevada, and you're a pro, just go on ahead and ignore this list. Thankfully, the United States has some of the best natural sights to offer in the world.