From Boba Fett to To 'GoT': Bernie Sanders Meme Oozes Big Mitten Energy
Bernie Sanders' laid-back dad vibes at the Inauguration have destroyed the Internet.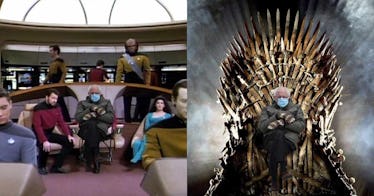 Paramount/CBS; HBO; Biden Inaugural Committee
The greatest Internet gift from the Inauguration was, without a doubt, the visage of Bernie Sanders, casually sitting with this giant dad-mittens, acting like he was simply listening in on a mandatory PTA meeting, but that, as soon as it was time to leave, he's gonna be back in the Subaru, bumping whatever the local classical music radio station is playing at the moment.
There's simply no way to describe the power of this meme, without giving examples. But it is important to note that every parent on the planet should try to figure out a way to channel Berne's big-mitten energy in 2021. He's not being disrespectful to Joe and Kamala. He's just chilling out. Bernie's Lebowski-esque vibe is exactly the kind of mood we need to settle into this new year.
Here are just a few of the great examples of the Bernie Mitten Meme we saw on Twitter and Instagram.
Bernie Wins the Game of Thrones
Bernie Will Sell You a Chili Dog
Bernie Visits the Jedi Council
Bernie versus Marina Abramović
Bernie With Churchill and FDR
Bernie Takes Over the Starship Enterprise
Bernie Is the New Boba Fett
Forrest Gump Bernie, Bring It On Bernie, and More