Deal: These Are the Best Lego 'Star Wars' Sales Happening Today
Only a stuck-up, half-witted, scruffy-looking nerf herder wouldn't take advantage of these savings.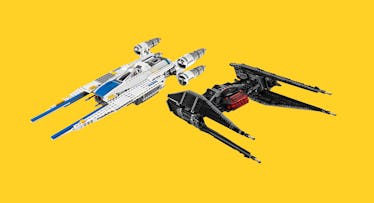 Star Wars Day is officially upon us, and that means two things: One, super fans around the world will spend the day saying "May the Fourth Be With You" to unwitting co-workers, and think they're being clever. And two, lovers of all things lightsaber can score massive deals on Star Wars toys and Force-tastic swag. Some of the hottest of those deals come courtesy of Lego, which has churned to countless iconic Star Wars sets over the years. We scouted for the best deals and found these seven can't-miss deals on Lego Star Wars sets happening today. May the sales be with you.
Kylo Ren's TIE Fighter
Star Wars is nothing without a great villain and Kylo Ren certainly fits the bill, officially establishing himself as a formidable foe to the Jedi way when he stuck a lightsaber through his dad's chest. Plus, he has a completely badass TIE Fighter, which just so happens to be on sale today.
Yoda's Jedi Starfighter
Yoda's Jedi Starfighter is a must-have for any true Star Wars fan. The 262-piece craft features a number of killer specs — two laser cannons, spring-loaded shooters, fold-able wings — and is on sale for less than $20. Great deal, this is. Regret buying this, parents will not.
Republic Fighter Tank
This totally awesome tank comes from the Clone Wars-era and packs a few droids for the tank to destroy. Because nothing brings a kid more joy than getting to run over a few imperial droids with a massive tank. It also comes with an Aayla Secura figure, who is one of the most underrated Jedis in the Star Wars universe.
A-Wing Starfighter
Every kid dreams of getting to join the Rebel Alliance and fight alongside the brave heroes who stood up against the Evil Empire. With this A-Wing Starfighter, they can feel like they're cruising alongside Lando as he gets ready to destroy Stormtroopers with laser cannons and undeniable charisma.
Rebel U-Wing Fighter
The fact that this set is on sale for less than $60 is simply unbelievable, as the Rogue One ship features nearly 700 pieces and is recommended for kids between the ages of eight and 14 years old. Kids are guaranteed to love this rescue mission ship, which features several characters from the spin-off film.
Ski Speeder vs. First Order Walker Microfighters
With this fantastic and affordable Last Jedi set, kids can feel like they are orchestrating an epic battle between the First Order and the Resistance, which could end up deciding the fate of the entire universe. Will the rebel be able to escape the First Order on his ski speeder? Only time will tell,
Character Watches
Every kid has a favorite Star Wars character and now they can show off their fanhood with this dope watch that is on sale for less than $20. Kids can choose from tons of their favorite characters from all the Star Wars films, including BB-8, Luke Skywalker, and Boba Fett.