Report Ranks The 10 Best Dog Breeds For Road Trip-Loving Families
Where does your Fido rank?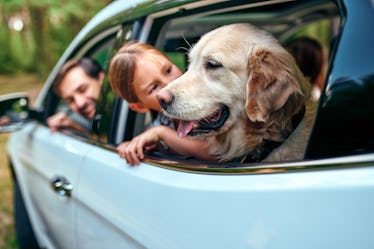 Shutterstock
As we crawl out of the darker days of winter, there's a lot to look forward to — especially if the family is planning a road trip to a national park or as part of a larger vacation. In a lot of cases, driving can be cheaper than flying, and if you have a dog, road trips are much more pet-friendly vacations than putting your dog in a plane's cargo hold. So whether you have a dog, or you're thinking of getting one, and road trips are in your future, there are apparently top dog breeds that do well at car travel, at least according to one report.
Autotrader wanted to find out which dog breeds are better at car travel. "Many of us have our own opinions on the best dog breeds," Autotrader explains, "but when it comes to car travel, we wondered if there were any canine breeds that tend to travel better than others."
To narrow down a list, Autotrader dug into data, looking into expert opinions on which dog breeds do well in the car and several surveys on dog breeds and vehicle travel.
"By analysing which dog breeds are mentioned the most as being the best car companions, across 25 different pet websites, we can reveal that there certainly are specific dog breeds that tend to find car travel less stressful, providing you with the perfect road trip buddy," they report.
After looking at all the data, the people at Autotrader sorted out the list, and there are 18 dog breeds that stand out as being car travel friendly. Some dogs on the list are ranked at the same level, because the same number of canine experts recommended them for car travel.
According to Autotrader, the dog that tops the list is the Labrador Retriever.
"Our analysis found that Labradors take the crown as being the most mentioned 'best dog to drive with' - being named as the most car-compatible breed by 22 canine experts," Autotrader's report shows.
"Known for being both friendly companions and excellent working dogs, Labradors are widely considered to be amongst the easiest dogs to train thanks to their gundog nature." Adding to the mix of being easy to train is a Labrador's tendency to be "compassionate and easygoing," making travel simple.
Now, it's important to note that not all dogs, or even dogs of the same breeds, are the same. Some Labradors, for example, absolutely hate travel and get anxious being in the car or get sick. And the report wasn't based on peer-reviewed research but on pet websites, so take the results with a grain of salt.
And just because your dog is car-nervous doesn't mean they have to be forever. You can set your dog up for success on your next road trip by training them up for success, and by consistently and slowly training them to be more car-comfortable. The American Kennel Club has an amazing resource on how to work with your dog who might have car anxiety.
So, if this list doesn't ring true to you, that's totally fair, and remember that you can always work with your dog to expand their world.
Here is the top 10 list of best dog breeds for car travel:
Labrador Retriever
Chihuahua
Golden Retriever
Maltese
French Bulldog and Poodle
Pomeranian, Dachshund, and Boston Terrier
Yorkshire Terrier
Dalmatian and Great Dane
Clumber Spaniel, Jack Russell Terrier, and Bichon Frisée
German Shorthaired Pointer, Beagle, and German Shepherd
To read more about the best dogs for travel, and some important travel tips, visit AutoTrader. And remember this is just one report — not the end all be all on dog breeds and how they do in cars.