Ben McKenzie And His 7-Year-Old Daughter Are Going Back To The O.C.
California, here we come.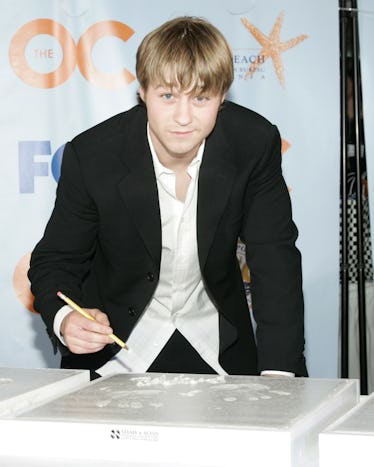 J. Merritt/FilmMagic/Getty Images
Actor Ben McKenzie recently confessed to a hilarious way he's bonding with his 7-year-old daughter, Frances, after she told him he's not as cool as her mom (and his wife), Morena Baccarin.
Recently, McKenzie was a guest on Rachel Bilson and Melinda Clark's podcast, Welcome to The O.C., Bitches, where the former co-stars of the Fox TV drama from the aughts reminisced about working together.
On the show, McKenzie played Ryan Atwood, an angsty teen who moved from the wrong side of the tracks to Newport Beach. The drama is celebrating its 20th anniversary this year (it went off the air in 2007), and McKenzie said he recently found an opportunity to bond with his daughter through the show.
"I haven't been working [in acting] in the last couple years, because I've been doing this stupid book thing, and so they [the kids] think that their mom is cool because she's in movies, but they're not aware of my work," McKenzie shared, per Entertainment Weekly.
Although he's most known for his roles in The O.C. and Gotham, McKenzie, who has an economics degree, has stepped out of the Hollywood spotlight in the past few years. The "stupid book thing" he's referring to is a book on the cryptocurrency industry he co-wrote with journalist Jacob Silverman, called Easy Money: Cryptocurrency, Casino Capitalism, and the Golden Age of Fraud. McKenzie even testified to Congress about his concerns with the industry.
But luckily, he was able to cement his cool status to his daughter by showing her old episodes of The O.C., admitting he lets Frances watch the show.
"So I let Frances watch The O.C. at 7 years old ... bad idea, bad idea," he said. "She of course loves it, like absolutely loves it. I had to cut it off after two episodes because I was like, 'Oh my god I forgot about the smoking.' I remembered the drinking. And there's cocaine."
Despite being reminded that the show has some dark storylines — shootings, betrayals, earthquakes galore — his daughter is ready to binge it all.
"She really wants to continue watching it," he admitted. "It's adorable and really weird to watch it with your daughter."
While he said his decision to allow his daughter to watch the show is "terrible parenting" and that letting her watch "Gotham would have been a better move," it sounds like they had some fun, whether or not they'll continue watching the show. California, here we come...