Disney Might Be Doing a 'Beauty and the Beast' Prequel Nobody Asked For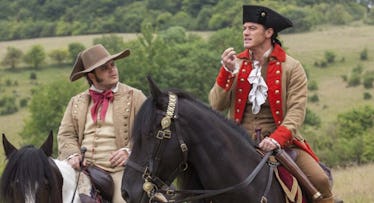 Credit: Walt Disney Studios Motion Pictures
We seem to be stuck in a movie time where we're redoing old classics, turning animated movies into live-action. We've seen the same story in a few different ways, and it's starting to feel like we're running out of new stories. If Disney is going to remake a story, at least put a twist on it, but maybe not like this? There are rumors that Disney may be working on a Beauty and the Beast prequel following a new story that no one asked for.
Beauty and the Beast is a good movie and a memorable Disney classic. We love the original, the live-action remake of the same story was OK, too. But now reports of a prequel in the works leave us with a weird feeling. No, it's not about Belle and her early life, what happened with her mom and growing up with an eccentric inventor as her dad. It's not even rumored to be about the Beast and how he grew up in royalty, what happened to make him turn unkind, and that whole witch that turned everyone into household items thing.
Nope. According to The Hollywood Reporter, Disney is going to make us a prequel on Gaston and LeFou. No one cares about their origin story, and yet we're maybe getting one. The outlet says Disney+ is teaming up with Eddy Kitsis and Adam Horowitz, the creators of Once Upon a Time, and Josh Gad and Luke Evans for a prequel series related to the 2017 feature film they did.
"The untitled limited series will be a six-episode musical event, with composer Alan Menken in talks to return as well," The Hollywood Reporter says. The project is still in the "early development stage" and will give us the story of LeFou and Gaston before the storyline in the live-action remake movie.
Disney+ has declined to comment on the story to CNN, and no further details are available at this time.
This article was originally published on