You Need to Watch This Viral TikTok Explaining Black American Sign Language
"I felt like a lot of people didn't know about BASL until my video went viral."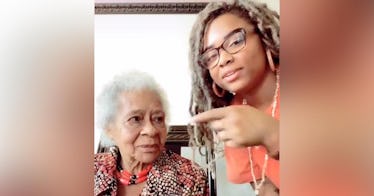 A 22-year-old woman is going viral and being praised for using her platform to raise awareness of Black American Sign Language (BASL). Nakia Smith comes from a four-generation family of deaf people. She has been instrumental in opening up a dialogue on the history of BASL, with the help of her great grandparents and grandparents. Since Nakia's videos have gone viral, and she's already made a big impact. Here's what we know.
According to Nakia, there is a lot of history in American Sign Language (ASL), and BASL is a language dialect. She explained in a video for Netflix that BASL was developed in the 1800s because, at that time, schools for the deaf and hard-of-hearing were segregated. She explained in the video that the first school for the deaf opened in 1817. Though, Nakia noted that the school didn't admit Black people until 1952.
Because of this, Black communities developed their own language and signs. "The biggest difference between BASL and ASL is that BASL got seasoning," Nakia explained. She said that there are differences in the language, explaining that in ASL, typically, the signs are used with one hand, where BASL uses two hand communication.
Nakia began creating videos on TikTok to highlight the differences between ASL and BASL to raise awareness of the different dialects. She regularly features other members of her family, including her parents, grandparents, and siblings,
"I felt like a lot of people didn't know about BASL until my video went viral. They were really curious and wanted to learn more about BASL and history. I told my grandfather that the video went viral, and he said, 'Keep it going,'" Nakia explained in her Netflix interview. "I knew I couldn't answer everyone's questions. From there, I knew that I'd have to continue teaching people what they need to know."
She's had several videos on TikTok go viral with a mix of humor and education, and it's clear she's making a big impact with over 441,000 followers and a total of 8.7 million views from her content.
"People do need to know that Black ASL is not slang — it's a language itself," Nakia said.