Man Builds Old-School Video Rental Store In Basement, Goes Viral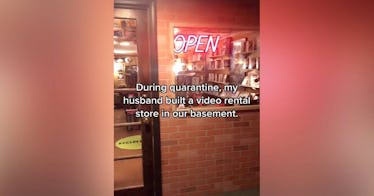 On Friday nights, married couples used to flock to the local video store to rent a movie for an at-home date. There was something about visiting the rental store that made a fun outing. But those days are largely gone, for the obvious reasons. Streaming platforms have taken over, and video rental stores are a thing of the past. But one man wanted that nostalgic atmosphere back. So, he made an old-school video rental store in his basement, and it's so on point that the video tour has gone viral on TikTok.
TikTok user thevideobunker shared a video tour of the mock rental store that her husband made in quarantine boredom. Every detail was thought out to look exactly like an old-school video rental store. And it helps that most of the supplies come from a real video store that went out of business during quarantine.
Without knowing this was built in someone's basement as an ode to the video rental phase, we would think this was the real deal. Walking through the brick storefront, we see rows on rows of shelves full of movies. There was no re-inventing the wheel or bringing video rental stores into current times. It's an exact replica.
According to his wife, her husband needed a project to "keep himself busy" during the quarantine. This is the project he decided to dedicate his time to. "Instead of refinishing our kitchen cabinets, he decided to make a video rental store," the woman says while walking through the store.
Their movie collection is super impressive. As are the cabinets of movie memorabilia and movie posters that really tie this at-home movie rental store together.
Making his man cave dreams come true, the rental store is complete with a viewing room just off the main room. It has two cozy recliner chairs, shelves that line the walls that are full of VHS tapes, and an old-school TV for viewing pleasure. Seriously, there's even a LaserDisc player.
It's a real blast from the past, and the tour went viral with people reminiscing of those good ol' days in the comment section. The initial tour has been viewed 4.1 million times, it's probably inspired more of these to pop up in other people's basements.