Barack Obama Speaks Up About The 10 Years Michelle "Couldn't Stand Him"
"It sure helps to be out of the White House."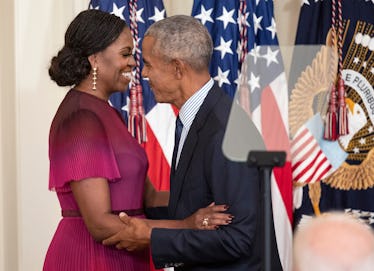 Kevin Dietsch/Getty Images News/Getty Images
In December 2022, former first lady Michelle Obama sat down with REVOLT Studios, where she spoke about the stress of living in the White House and raising their kids, opening up about a challenging period in her marriage to former President Barack Obama. And now, Barack has responded — in a typically honest and gracious fashion.
"People think I'm being catty by saying this — it's like there were 10 years [that] I couldn't stand my husband," Michelle Obama said at the time. "And guess when it happened? When those kids were little... Because you can be all great individually when you're just married, you got your life, he's got his, you come together it's like 'oh, good to see you, bye, take it easy."
"So you turn that ire on each other, and for 10 years while we're trying to build our careers and worrying about school and who's doing what."
The comments obviously went viral, as did the honesty of what she was talking about — the stresses of raising young kids, and worrying about whether your partner is pulling enough weight, gets to many parents. Michelle consistently doles out meaningful nuggets of parenting and marriage wisdom, and this time was no different.
In an interview with CBS Mornings, Barack Obama finally officially responded to the comments. He admitted that he didn't "appreciate the stress she was under" at the time. For the couple, it's yet another refreshing take on a long-term partnership and the stresses of raising kids.
Co-host Nate Burleson asked him about Michelle's comments about those 10 years that she couldn't "stand him." Burleson asked, jokingly, how he was able to turn things around with Michelle, and Barack said that "it sure helps to be out of the White House."
Barack and Michelle have two kids together, Sasha, 21, and Malia, 24. But when they moved into the White House, the kids were only 7 and 10.
"What also helps, though, about children... Michelle, when our girls were growing up, that was priority number one, two, three, and four," Barack told Burleson. "And so, I did not fully appreciate, I think, as engaged of a father I was, the degree of stress and tension for her knowing that not just me and Michelle were under scrutiny and in this strange environment, but that we were raising our daughters in a kind of situation that just wasn't normal," he explained.
Now, having some distance from the harder parts of raising children, and being out of the bright lights in the White House — and, of course, the stress and commitment the job entails — Barack said he and Michelle are able to look back on those tough years much more kindly.
"Now that they're doing good, she's a little more forgiving of my flaws," he shared. "What she's told me is, 'Looking back, you did OK as a dad.' And if I passed that test, then she'll forgive me most of my other foibles."