Babysitting Costs Have Outpaced Inflation For The Second Year In A Row
Unsurprisingly, a night out is becoming more and more costly.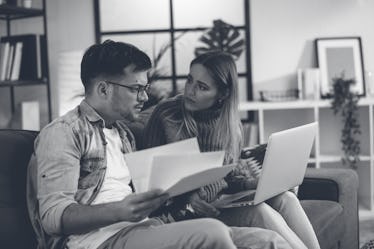 Shutterstock
As the past few years have made clear, the effects of inflation are felt across a wide array of areas. Gas prices soared. Rent and mortgage prices rose. Let's not even get started about the price of eggs, meat, and other such basic needs. A new study shows that the cost of another important need for parents — hiring a babysitter — is not only increasing, but has outpaced the inflation rates for a second year in a row.
The San Francisco-based find-a-sitter service UrbanSitter has tracked babysitting rates for the past 12 years and found that the national average cost of a sitter for one child is $22.68, and two children $25.37. This means that in 2022, the cost of hiring a sitter increased 9.7% nationally. While slightly less than the 11% hike seen in 2021, it shows that babysitting rates are still outpacing inflation rates.
So what accounts for the increase? According to UrbanSitter, there are several reasons, including a shortage of providers, rising inflation, and higher demand. There are also more skilled professionals, including teachers and nurses, offering sitting services.
Of course, the national average is just that — an average. In some cities it costs far more to hire a babysitter, while in others it runs much less. In San Francisco, the most expensive city to hire a sitter, the cost per hour for babysitting one child is, for example, nearly the same as the national average for two kids.
In general, child care is becoming increasingly unaffordable. According to Fortune, families in the U.S. spend an average of 17.8% of their income on child care, and a 2022 Care.com survey found that 51% of U.S. parents were spending over 20% of their income on the expense.
The U.S. Department of Health and Human Services (HHS) defines "affordable" childcare as costing no more than 7% of an annual household income. And the costs of child care go far beyond hitting our wallets. It also hits the workforce.
Fortune reported that more than one-third of stay-at-home parents admitted to leaving their jobs to care for their kids because they couldn't afford childcare.
The federal government hasn't attempted to correct the problems with the cost of child care, the low wages for its workers, and the razor-thin margins that child care centers run on since its Build Back Better bill, which included a provision to increase pay for childcare workers and capped child care costs at 7%, was squashed at the end of 2021. Other states, like New Mexico, have stepped in to make child care a constitutional right.
To check out the cost of babysitting across the other major cities, check out UrbanSitter's full report.