These Are the Most Expensive Cities in the US For Babysitting
The inflation rate of babysitting was far above the average 7 percent for consumer goods.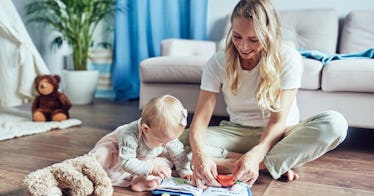 Ekaterina Goncharova / Getty Images
If it feels like everything is getting more and more expensive, you're not wrong. We've felt the price increase squeeze at the grocery store, the gas station – and for babysitting, too. There was a major rate increase over the past year, and it's resulted in hits to the pocketbook more than ever before. Overall, the babysitting rates across the country have increased by some cities are more expensive than others. Here's what you need to know.
According to UrbanSitter, a company that helps families find and secure child care, the hourly rate for a babysitter has reached an all-time high and saw an 11 percent increase from the previous year. This inflation rate is far outpacing the 7 percent jump in consumer prices which recently reached a 40-year high. To help put that into perspective, babysitting rates only rose 3.9 percent from 2019 to 2020.
UrbanSitter wanted to calculate the average cost of babysitting and then broke those numbers down further looking into which cities in the US have the highest average hourly rate. The data for both was based on 63,550 UrbanSitter bookings, and it's clear that babysitting prices have skyrocketed.
The national average rate for child care is $20.57 per hour to watch one child, $23.25 per hour to watch two kids, and for three kids, that price jumps to $24.35 per hour.
Which cities are the most expensive for babysitting across the US?
New York City at $23.45 per hour
San Francisco at $23.32 per hour
Seattle at $21.23 per hour
National average at $20.57 per hour
Los Angeles at $20.23 per hour
Boston at $19.96 per hour
Raleigh at $19.94 per hour
Phoenix at $19.81 per hour
Washington, D.C. at $19.79 per hour
Miami at $19.31 per hour
As Axios points out, the increase in prices has been a hit to parents who are already dealing with budgets tightening due to inflation. But the rate increase isn't bad for everyone. "Higher wages are great news for babysitters themselves, who have traditionally been underpaid."