"Baby's First Pandemic" Photo Trend Goes Viral
This is fine. Everything is fine.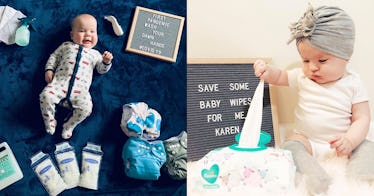 Everyone is in the middle of their second week or longer of isolation and being stuck at home, and there's no question people are going a little stir-crazy. We're coming up with creative ways to pass the time and now there's a new photo trend that has captured people's attention. With parents stuck indoors with their kids, the monthly photoshoots have gotten creative with a pandemic-spin.
Usually monthly baby photoshoots show off how much their little bundle has grown and will include mentions of their milestones or their surrounded by their favorite toys. These markers of their growth and personality are adorable, but this pandemic spin is a little… weird. Yes, babies are cute, and a photo of a baby will never not be cute, but pandemic and baby don't feel like they should mix. Simply because it's an awkward time for everyone.
These pandemic photos have babies surrounded by cleaning supplies, toilet paper, and hand sanitizer in place of toys and cute baby things. There are stacks of diaper boxes and toilet paper rolls instead of baby toys and blocks.
Masks and wipes and sanitizing cleaner surrounds the babies and funny messages on the writing boards poking fun at the fact we can't seem to buy toilet paper or baby wipes in any store right now.
It will be interesting to see what people feel about these photos 10 years from now. Christina Wecker, a mom of three, put together one of these photoshoots starring her 3-month-old daughter, Tyler Joy, according to TODAY. She also has older children who feel the anxiety of this time and she feels these photoshoots now, and looking back on the in the future, will be good for her kids.
"I want when Ryleigh [her 7-year-old] looks back on this period of time in her life to remember feeling safe and loved," Wecker told TODAY. "Making light of the situation while we are safe in our house is one way to do that … I figured we have pictures of all these other big moments in Tyler's life — why not this?"
Brittany Rarick told TODAY that she and her family are social distancing and staying in their home as much as possible. For her, the inspiration to do this photoshoot comes from love and wanting to document her daughter's growth, and is not making light about what is going on.
"There has been an absolute mass panic over toilet paper, bottled water, ramen noodles and other necessities," Rarick said. "We believe that during certain events throughout out lives, no matter how big or small, humor and laughter is what helps keep us positive and hopeful."
"Despite the laughter, our family still takes this pandemic seriously," Rarick told TODAY. "We practice social distancing with our children, along with proper hygiene regardless of who we come into contact with. And, we've prepared for a long-term situation — while not hoarding everything — just in case the situation prolongs."
Respect for the creativity of these families! And for finding a cute way to highlight the massive change in our lives right now with some humor. These babies are the cutest, and a good reminder for us all why it's important for us to stay home.
This article was originally published on