Here's How to Make Baby Yoda Cocktails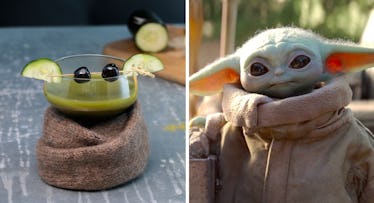 Credit: Instagram / @kegworks; Disney+
There is no question that one of the biggest stars to come out of this last half of the year is Baby Yoda. Thanks to Disney+ launch and their new show The Mandalorian, Baby Yoda has become an instant icon. A hit people can't get enough of, and his likeness is everywhere. He's popularity has turned into several memes, DIY toys, and now we have Baby Yoda Cocktails just in time for the holidays to hit.
Cocktails are perfect for sipping while your kids are running wild with the noisy toys they just opened up and you want to kind of melt into the background and not stress about the noise and mess. This Baby Yoda Cocktail is a little extra because not only is it going to help melt the stress but it's seriously adorable, too.
There's more than one way to make up the Baby Yoda Cocktail, but the one that catches my eye the most has to be the one by Kegworks. They call it the "The Matcha-lorian Baby Yoda Cocktail Recipe," and it's a gin-based cocktail that also calls for cucumber, ginger, and matcha to get that perfect green shade. It sounds like a great mix if you're feeling a little under the weather, too because we all know ginger opens the sinuses.
Served in a Margarita Glass, with a little burlap fabric wrapped around and little black olive garnishes to match the eyes, there is zero question this is a must-drink for the holidays.
To get the full recipe and directions, head over to Kegworks.
This article was originally published on