Viral Video of Infant Twin Protecting Sister After Unrecognizable Dad Shaved Beard Is So Sweet
It's all about that protective arm.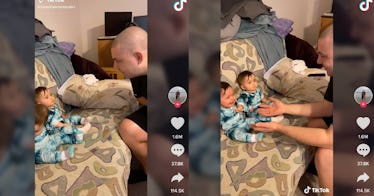 Jonathan Normoyle/TikTok
An adorable video of two twin girls not recognizing their dad after he shaved his beard has given everyone the giggles. Why? Because the "babies don't recognize their dad after he shaves" genre of video is one that is as old as digital video has existed, and every single time, it's adorable in a new way.
When TikTok user Jonathan Normoyle, a dad to two twin daughters, shaved his beard, he probably thought he was due for a necessary clean-up and didn't think of the fact that his infant daughters might not recognize him. They're still very young, right in that "stranger danger" phase where young babes cry at the sight of anyone they don't recognize. And, at least according to the viral video he posted on the social media platform, they didn't recognize their dad without all the hair covering his face.
In the video, the two girls are sitting on the couch looking at a man — some stranger, to them! — sitting in front of them. The man is Jonathan, their dad, only the girls have no idea that's dad. At first, the girls are just staring at him. Until dad opened his mouth and said, "Hi, what are you doing?"
One of the twins starts to cry. But it's what her twin sister did next that had everyone on social media in splits.
Dad put his arms out to pick his little girl up, to comfort her since she was crying. It caused her to cry louder, and her twin sister put her arm in front of her — the same way a dad does when a teen is sitting in the front seat of the car, and they're about to come to a hard stop. She was protecting her sister. Telling this strange man (aka dad), not on my watch.
The video went viral, racking up 8.4 million views on TikTok. Comments flooded in with jokes, and everyone noticed that arm of protection.
"Sis put her hand out like YOU ARE NOT TAKING MY SISTER STRANGE MAN," one person wrote.
"The arm set a boundary that not even thanos could break," joked another.
"The arm was just a perfect touch," someone else said.
No one can come between a sisterly bond. Not even bald-face dad.