Popular Stroller Has Been Recalled and Baby Sleeper Gets a Warning. Do You Own Them?
The government isn't playing around here.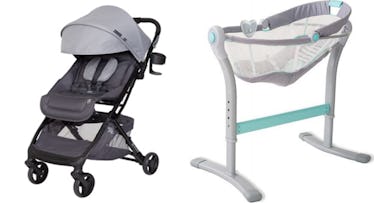 Credit: CPSC / Baby Trend Recalls Tango Mini Stroller; Summer Infant, Inc.'s SwaddleMe By Your Bed Sleeper
It's time to take a closer look at which stroller and baby sleeper you're using because the Consumer Product Safety Commission (CPSC) has issued two warnings for popular baby products. The CPSC is saying these products are dangerous and are urging parents to pay attention. Here's what you need to know.
The first isn't technically a recall but is a stern warning issued for the SwaddleMe By Your Bed Sleeper by Sumr Brands (formerly known as Summer Infant). This inclined sleeper results in babies laying and sleeping at an angle, and the agency is worried about the risks to babies who can't yet hold their heads up. The CPSC warns, "staff believes that the Summer Infant SwaddleMe By Your Bed Sleeper puts infants at risk of suffocation."
"The agency continues to emphasize that the best place for a baby to sleep is on a firm, flat surface in a crib, bassinet, or play yard," CPSC.gov clearly states. "Parents and caregivers should never add blankets, pillows, or other items to an infant's sleeping environment. Babies should always be placed to sleep on their back."
No incidents have been reported, according to their release, but the CPSC is working hard to have a recall issued. "CPSC urges consumers to stop using the product immediately." Parents are asked to get in contact with the CPSC at www.SaferProducts.gov to report any sleeper incidents.
The second baby product parents should look for is an official recall of the Baby Trend's Tango Mini Stroller. The concern with this stroller comes from the hinges and the CPSC says, "both of the stroller's hinge joints can release and collapse under pressure, posing a fall hazard to children in the stroller."
The agency says that no incidents have been reported from using the Baby Trend's Tango Mini, but parents have the stroller are urged to get in touch for a refund or a repair kit. The strollers were sold for $100-$120 from Amazon, and Target stores and Target Online between October 2019 and November 2019. Parents can email info@babytrend.com or visit www.babytrend.com and click on "Safety Notices" at the bottom of the page to get further information.
This article was originally published on