New 'Baby Shark' TV Show is Coming Starring Cardi B, Offset, and Their Daughter
There's a new star in town.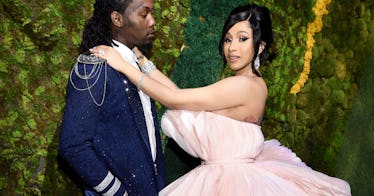 Dimitrios Kambouris/Getty Images for Diamond Ball
Cardi B is bringing her skills and talent to kids' entertainment! The star announced she and her family are appearing in the new Baby Shark TV show.
"Make sure you guys and your babies check out Me & my family episode on BABYSHARK series on Nickelodeon," Cardi wrote, sharing the news to Instagram.
Cardi and her husband, Offset, and their daughter, Kulture, will all voice new characters on Baby Shark's Big Show! Cardi will play Sharki B, Offset will be known as Offshark, and Kulture Shark is Kulture's role. And it sounds like Sharki B is going to be very similar to Cardi herself.
The press release says Sharki B is "the biggest star in the seven seas," and it describes her as "flashy, awe-inspiring, and ruthlessly fun," adding that she's "always 100 percent her self and fin-spires other fishies to do the same."
Cardi B, as Sharki B, will debut a new song on the episode titled "The Seaweed Sway." And of course, there's a dance to go along with it. It's all very on-brand for the show, and it looks like Cardi and her family fit right in.
The Baby Shark's Big Show! episode starring Cardi B is set to air April 15 at noon ET/PT on Nickelodeon.