Nirvana Album Cover Baby Is Suing Over Child Pornography Claims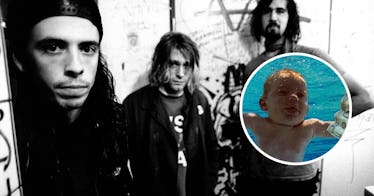 GETTY
The baby who was featured on Nirvana's iconic cover for their 1991 rock album Nevermind is suing the surviving members of the band and Kurt Cobain's estate, claiming that the group violated child pornography laws and that his guardians never signed a proper release.
Spencer Elden is the former baby who appears on the cover and his lawsuit states that he has suffered "lifelong damages" because he "was forced to engage in commercial sexual acts while under the age of 18 years old." Spencer is seeking $150,000 from each of the defendants, which includes Dave Grohl, Krist Novoselic, Courtney Love, the executor of Cobain's estate, photographer Kirk Weddle, and several others.
The iconic album cover features baby Spencer naked in the pool and seemingly swimming after a dollar that is tied to a string. The story goes that Weddle called up Spencer's father Rick and offered him $200 for his son to be featured on the album. Spencer previously seemed to be more on board with his appearance on the album, even recreating the photo several times of the years, but in a 2016 interview with GQ Australia, he said he was "pissed off" about it.
So is there a real case here? Obviously, child pornography laws are no joke but typically, non-sexualized nude photos of infants aren't considered child pornography.
However, Robert Y. Lewis, Spencer's lawyer, is arguing that the fact that he appears to be chasing after the money actually makes him appear "like a sex worker."
The other aspect here is whether or not the band actually got permission to use the photo. It's clear that Rick Elden was on board for the process but if a proper release was not signed, there could be legal precedence for the lawsuit. At this point, it's not clear whether or not Rick or any of Spencer's legal guardians signed anything or was just given money for the photo.
There have been plenty of examples of people used as the subjects in album covers suing the band, including Ann Kirsten Kennis, the model who discovered her photo on the cover of Contra, Vampire Weekend's second album. Kennis and the band eventually settled out of court, which might be what the defendants, in this case, end up trying to do in order to get this story out of the spotlight.