Top Baby Name Trends for 2022 Hint Parents Want to Go Back in Time
We're all clearly over the drama of the past few years.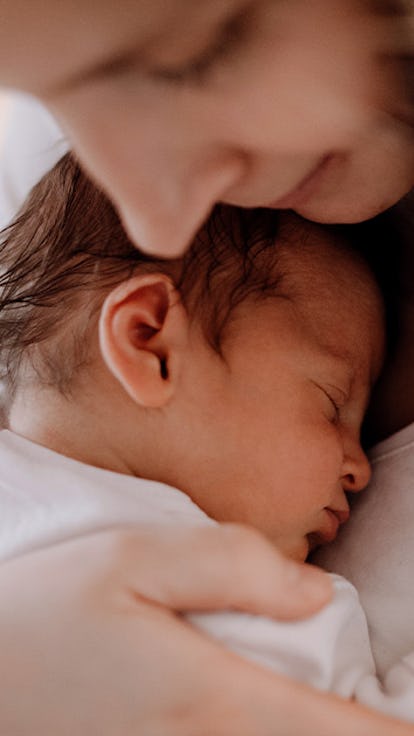 A new list of the top baby name trend predictions for 2022 has shown that everyone across the world is ready to escape. Here's what you need to know.
According to Nameberry, which touts itself as "the world's largest website devoted to baby names," there are always trends when it comes to baby names. We see this yearly when some of the more unusual names given to babies that year are revealed.
Of course, there are also names that are classic, that always seem to be on trend. But it's the more unique ones that can give us a window into what was happening in the world at that time.
The baby name trends for 2022 are already beginning to show themselves and looking at what Namberry predicts these 10 trends to be, it's very clear that parents are looking for an escape from the drama anywhere they can find it.
One of the top 2022 baby name trends is "playful" baby names.
"The new parents of 2022 will be drawn to light, bright, playful baby names with a strong element of fun," Nameberry explains. Names in this category include Teddy, Trixie, Ziggy, Cricket, and Bear. "Fashion-forward celebrity parents have already started to skip the formal name entirely, opting to put sweet, whimsical terms of endearment," Nameberry explains.
Another on the list for 2022 baby name trends are "escapist nature" names.
"As our horizons finally begin to broaden once again, other trending nature names for 2022 will evoke wild, rugged, expansive landscapes," Nameberry says. These names include ones like Coast, Dune, Horizon, Forest, and Zephyr. Nearly all of us could use a getaway right about now and these names clearly reflect that.
"Spirit and Soul" baby names is another baby name trend to watch for.
Nameberry explains this trend as one that "reflect parents' hopes, dreams and aspirations for their children, born into a time of uncertainty and change."
Names included in this category are "powerful and evocative, drawing on ancient myth and diverse religious traditions – but with a thoroughly modern twist." Praise, Dream, Revere, Promise, and Shine are a few examples.
Baby names rooted in nostalgia are also a big trend coming for 2022.
There is no question that all of us are wishing we could turn back time, at least temporarily. And that's being reflected in the 2022 baby name trends. The nostalgic baby names include "the idealized 1950s childhood of gingham tablecloths, home-baked cookies and lemonade stands," Nameberry says. Think Bobby, Betty, Ralph, and Gene.
Other trends we're likely going to see next year include musical names, names that start with the letter "r," euro chic names, names ending with "s," gender neutral names, and names inspired by the Netflix hit Bridgerton.
For the full list of names and trends, check out Nameberry.
This article was originally published on