These Are Going To Be The Hottest Baby Names In 2021, And We Have Thoughts
It's all about the whimsical hipster names this year, apparently.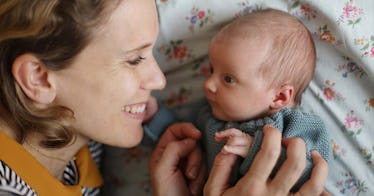 There is a lot of pressure in choosing the best baby name. So many factors go into the decision. And making the wrong one can scar your child for a long time. For parents on the hunt for the best baby name, or one that is unique, or historical, or lovely, the internet is a great place to start research. One of the more popular baby name sites, Nameberry, recently revealed what could be the most popular baby names in 2021. To find out which names made the list, the site took data from its visitors' searches and narrowed down the five most popularly searched boy names and girl names in each country.
While the data was international in scope, looking at the popular baby names listed for the United States, we can see that people prefer sweet-sounding shorter names for little girls. Names inspired by the stars and have a slightly whimsical feel to them. For the boy baby names, it's all about the hipster vibes. Shorter names that have that old-fashioned feel, which is perfect to bring back now.
According to Nameberry's readers' data, these are the hottest boy and girl baby names in the United States in 2021:
Girl Baby Names That Will Be Popular In 2021
Luna
Maeve
Aurora
Isla
Aurelia
Boy Names That Will Be Popular In 2021
Silas
Atticus
Arlo
Theodore
Finn
Universally, some names are popular all across the world. For example, Luna, which is the number one name in the US for girls, is also very popular in Australia, Canada, Brazil, China, Finland, and seven other countries. Maeve is also a popular name, making the list in six countries.
While the top boy name in the US, Silas, is only popular in three other countries, including Sweden, Canada, and the United Arab Emirates. But Arlo, which is third in the US, also made the top five list in eight other countries.
Some other beautiful names, no less unique, made the list, too, but aren't popular worldwide. For example, Alizeh, which is Persian for "wind" is hugely in Pakistan, Remus is very popular in Russia, and Keziah is huge in South Africa.
The stand-out surprise name on the list of hottest baby names across the world is Danger. The name, typically used for boys, is popular in both India and Pakistan. You can check out the full list of names across the world on Nameberry.
This article was originally published on