Baby Monitor Catches Toddler Having Cute Chat With Alexa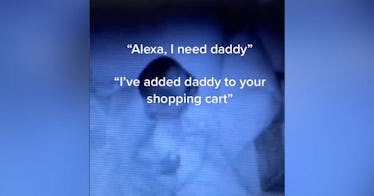 Kids pick up on everything. From their infancy these days, they pick up cellphones and pretend to speak on them, they try to turn on the television because they watch us do it, and sometimes, they even pretend to type on a computer. It's an adorable way that they attempt to make sense of the world — and luckily for everyone, these moments are often adorable, and when recorded, go viral. A video of a toddler who had a full-on conversation with Alexa is no exception.
Aly Femia is a mom of two boys and a teacher. She shares clips of her life as a parent on TikTok, and one went viral thanks to her son. One night, she was watching her toddler's baby monitor she had set up in her toddler's room, and overheard an interesting conversation that her baby was having with… well, an Alexa device.
In the clip, which she posted on her TikTok page, the mom can be heard giggling over a blurry video of her young son in bed. While trying to sleep, the toddler asked the one person he felt could help him at that time – the smart speaker from Amazon, Alexa.
"Alexa," he said, which turned on the smart speaker, "I need daddy."
Now that Alexa is listening, it replies with, "What should I add?" The toddler replies, "daddy."
We're going to guess he was hoping Alexa was going to go get his dad. Maybe so he could get him another glass of water before he falls asleep. Or some other bedtime procrastination technique that kids are good at — another bedtime story, or another potty trip.
Alexa then hilariously replied, "I've added daddy to your shopping list, is there anything else?" The adorable boy replied, "Urm… no," which might be the sweetest thing ever.
The video has racked over 3.7 million views because it's simply hilarious and adorable. The comment section had other parents sharing their toddler's interactions with the smart speaker. And part of what might be so familiar about it to parents is that it proves that this enterprising toddler has a strong understanding of the relationship between cause and effect — but maybe they don't understand the limits of what the devices they've basically figured out may do.
For example, one commenter showed how their baby understands the relationship between Alexa and music, but now thinks all music is controlled by Alexa. "My 2 yr old calls out for Alexa in the grocery store when he doesn't like the music they're playing," one mom wrote. "I'm like, baby, that's not how Alexa works, sweetie. Could you imagine how crazy the grocery store would be if they had Alexa?"
And thousands of other people commented and were curious about what exactly was added to the shopping list.