Viral Free Baby Formula Posts Are Not Real: What Parents Need to Know
It sounded too good to be true because it was.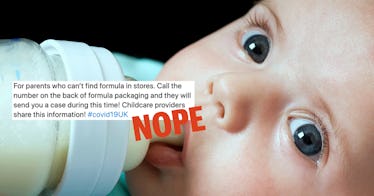 The COVID-19 panic has pretty much everyone feeling like they're not in control, and one of the things they're doing to cope is stocking up on food and household goods. Unfortunately, that's led to widespread over-purchasing, and stores are struggling to keep staples like toilet paper and canned goods in stock.
For parents who rely on baby formula, it's a particularly stressful situation. An empty formula shelf doesn't mean that mom and dad can't eat, it means that the tiny, helpless human they love more than anything and are charged with caring for can't eat. It's a worst-case scenario that would make any reasonable person desperate, which is why a viral hoax making the rounds on social media is particularly pernicious. Here's a typical example:
This is not true. Full stop. But if you're a frazzled parent worried after coming up empty on visits to multiple stores a phone call is a relatively risk-free step to take considering that each of those in-person visits increases your own chance of contracting the virus and/or bringing it back to your family.
That's meant that leading baby formula manufacturers have been inundated with calls to the point where they have felt the need to proactively let customers know that this hoax is exactly that: a hoax.
We called Similac as a parent who believed this hoax might and were greeted with this message: "We are aware of a post being circulated that offers free formula. Currently, Similac is not offering free product through our consumer relations line. Instead, we are doing everything we can to ensure adequate supply at all retail for all of our customers who need it."
Gerber also confirmed the rumor's falsity in a message about the pandemic: "We are aware of rumors claiming that Gerber is giving away free formula in response to the out of stocks. While this is not true, we are committed to our goal of supporting babies and families with dependable, affordable nutrition."
Now, it's pretty easy to argue that baby formula should be free — babies are helpless and should never go hungry because their parents can't afford formula — but wishing doesn't make it so. And with parents already stressed about the pandemic that's seemingly swallowing the world, the temporary hope hearing this rumor offers makes the inevitable discovery that it's bullshit an even harder pill to swallow.