Nearly 30 Percent of Popular Baby Formula Brands Sold Out in U.S.
Out-of-stock percentages for baby formula rose from 2 percent to almost 30 percent, which means more store shelves are bare.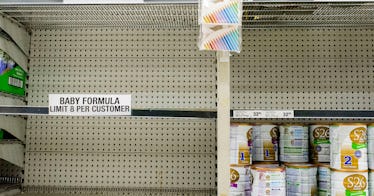 Christopher Pearce/Getty Images
For many parents who rely on formula to feed their infants, the idea of just changing the brand of baby formula our child eats is stressful. For babies who have specific nutritional needs, or are just plain picky, it's hard to know if they will tolerate the change. Formula is a necessary item for thousands of families across the United States, but right now, many parents are now struggling with having to make the choice of changing formula brands and are worrying about their formula of choice being sold out amid an ongoing formula shortage that's hit the country for months on end.
This situation comes with an added stressor of having to run the scenario through our minds on what we would need to do if there is zero formula. And that what-if situation is becoming real for families right now. Here's what you need to know.
Is there a baby formula shortage?
For the past several months, baby formula shortages have begun to crop up nationwide. Reports of parents having a challenging time finding the brand of formula their baby will eat started to get louder in late January. These shortages were related to "a combination of supply chain issues," which included a shortage of ingredients and a lack of staff to work at getting the formula on the shelves.
"The out-of-stock percentage for baby formula hovered between 2 percent and 8 percent in the first seven months of last year," NPR reports. "But it has been growing steadily since then and reached 23 percent in January," according to Datasembly, NPR writes.
So, the baby formula shortage is very real, and it's not getting any better.
However, fears and concerns ramped up a month later after a major baby formula recall due to fears of Cronobacter sakazakii infections and contamination, and the necessary recall limited formula stock even further. Abbott Nutrition recalled certain lots of Similac, EleCare, and Alimentum powdered formulas, in addition to one lot of the medical formula Similac PM 60/40.
These recalls required stores to remove them from the shelves, and the plant had to pause manufacturing to ensure the products were safe to use. This necessary step unfortunately made it even harder for parents to get the formula they like. According to Datasembly, during the week of March 13, 29 percent of baby formula products were out of stock in retailers across the country. The data analyzed more than 11,000 places that sell baby formula, and the increase has been growing.
The baby formula shortage is getting worse.
With the ongoing shortages, retailers across the U.S. are now rationing the sale of baby formula products. The Wall Street Journal reports several retail chains – including Target, CVS, Walgreens, and Kroger – have placed buying limits on formula to help ensure more families can purchase the product they need to feed their babies and avoid stockpiling of the product.
"Due to increased demand and various supplier challenges, infant and toddler formulas are seeing constraints across the country," a Walgreens spokesperson told NPR.
What can parents do about the baby formula shortage?
It's understandably scary for parents who are worried they won't find the baby formula brand their little one eats. Experts say that after checking in with their child's pediatrician, most often the formula brand can be safely switched to another name or generic brand and might be the best option during the shortages – as long as the type of formula remains the same.
However, parents should never dilute their baby's formula with water to make it last longer, and parents should not be turning to homemade formula recipes. "The big thing we want folks to do is to make sure they don't try to skimp or do things on their own by diluting out the formula to try and make it last longer. Don't add water," said Dr. John Kunzer who spoke with WTHR News.
It's also important to not give your infant milk until they are at least one year old.
Experts also warn about buying formula from an online marketplace like Craigslist or Facebook. "When you buy any formula from a third-party seller, you cannot be sure the product is what you think you are buying, and you cannot be sure of storage conditions, either," Bridget Young, Ph.D., a professor of pediatrics at the University of Rochester School of Medicine and Dentistry told The New York Times. Purchase baby formula directly from the manufacturer or a trusted pharmacy or store.
This article was originally published on