A 2nd U.S. State Could Approve "Baby Bonds" For Kids Who Lost A Parent
A proposed bill would help some of the 300,000 kids in the U.S. who lost at least one parent or guardian due to COVID-19.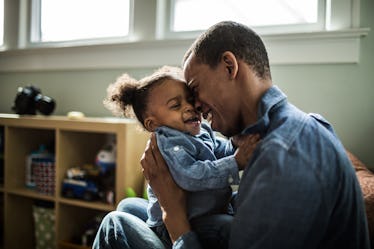 MoMo Productions/Stone/Getty Images
Nearly 300,000 children lost at least one parent or guardian due to the COVID-19 pandemic in the U.S. Now, two New York lawmakers have introduced legislation that aims to alleviate at least some of the financial burden faced by children in the state who are part of that statistic.
State Senator Jamaal Bailey and Assemblywoman Catalina Cruz joined forces to introduce the New York COVID-19 Children's Fund, a program designed to provide financial support for children who lost a parent to Covid. The program would create a savings bond account for each child, funded by the state government. Each child would receive a $1,000 initial deposit followed by $1,000 yearly until they turn 18.
The two lawmakers, in partnership with the advocacy group COVID Survivors for Change, introduced the bill last month. It must move through the Senate and Assembly before going to Governor Kathy Hochul for final approval.
"More than 16,000 children in New York state alone have lost a parent or caregiver to the pandemic. The New York COVID Children's Fund will help alleviate the educational and financial instability these young people are facing and support them in pursuing their education, purchasing a home, or starting a business," Bailey wrote in a Facebook post. "Nothing can take a place of a loved one—this funding is just the beginning to honor their loss and invest in their future."
The New York bill follows the passage of a similar bill in California, also sponsored by COVID Survivors for Change. The California bill passed in 2022 provides $100 million taken from budget surplus funds to low-income families who have lost a parent and to children in foster care in the form of interest-bearing savings accounts that are liquidatable when the child reaches adulthood.
Baby bonds have popped up several times in the last two decades as a way to help close the income gap. Hillary Clinton floated the idea as part of her 2008 campaign, and Senator Cory Booker introduced federal baby bond legislation in 2018 and then again in 2021. Booker's plan, co-sponsored by Senator Aryanna Pressley, would provide $1,000 to children of low-income families at birth. The funds would be deposited into interest-bearing savings accounts, and yearly deposits would be made based on the family's income.
While Booker's plan would benefit all children in families below certain income levels, the New York COVID-19 Children's Fund is designed specifically to benefit so-called "COVID-19 orphans" who are hit with the double-whammy of financial insecurity and the overwhelming grief surrounding the loss of a parent.
Childhood grief, specifically grief over parental loss, can have severe and long-lasting repercussions.
"In cases where a death is unexpected, such as with an acute illness or traumatic accident, adult children may remain in the denial and anger phases of the loss for extended periods of time…[leading to] diagnosis of major depressive disorder or even PTSD, if trauma is involved," psychiatrist Nikole Benders-Hadi, M.D., Medical Director of Behavioral Health at Doctor on Demand told Fatherly in 2018.
These mental health conditions can lead to profound consequences like chronic disease, financial instability, and interpersonal conflict. The hope is that by providing at least some source of financial stability, some of the negative impact of parental loss can be mitigated and children who have lost a parent are more able to attain goals that might have been difficult after the loss of family income.
Some say it's not enough, though. That $1,000 is small potatoes when considered in the context of the loss of an entire yearly income. Others question how the bill will benefit children who may turn 18 before the legislation is voted into law.
The New York COVID-19 Children's Fund has passed through committees, but dates for floor votes for both Senate and Assembly have yet to be set.