'Avengers: Endgame' Is Out On Home Video. Here's How To Watch It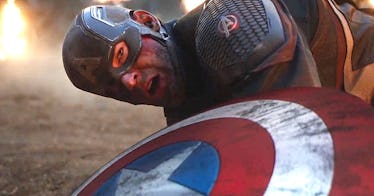 Credit: Marvel Studios
Avengers: Endgame is officially available for digital streaming and while we are all very excited to once again witness Dad Bod Thor in all his glory, it can be a little confusing figuring out where you can actually get your digital copy of the latest Avengers movie. After all, you used to just be able to head over to your local Blockbuster or Target to buy your favorite movie but in the world of streaming, there is a certain level of uncertainty that comes with the convenience of buying a movie online. Fortunately, we have all your purchasing options available here so that you can enjoy Captain America-on-Captain America violence without worrying about whether or not you got the best deal.
The good news is that there really is no wrong answer when it comes to picking where to buy Endgame, as the HD version currently costs $19.99 at Amazon, iTunes, Vudu, YouTube, and Google Play. Basically, it's just a matter of which streaming medium you prefer. Unfortunately, you can't currently rent Endgame online, though considering that it is the highest-earning film in Box Office history, it's hard to imagine most people won't want to buy it. Especially because it comes with a ton of bonus features, including deleted scenes and a blooper reel that will surely be hilarious.
If you are looking to get a physical copy of Endgame to add to your extensive Blu-ray collection, you'll have to wait a bit, as it won't be available to purchase until August 13.