Twitter Roasts Dating Author Who Says Liking Butts Makes Men Gay
Roosh Valizadeh, the author of the highly criticized 'Game', insists that our culture's fixation on butts is a 'gateway to homosexuality.'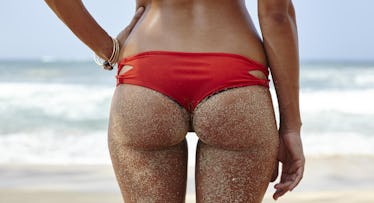 Getty Images
The only thing Twitter users love more than memes and Chrissy Teigen is combining forces to mercilessly mock someone who's made an unconsciously dumb statement online. And the latest victim of Twitter roasting is Roosh Valizadeh, who insists that men's 'butt obsession is a gateway to homosexuality.' Roosh, a self-proclaimed dating expert, posted a video on his Twitter where he proudly proclaims himself a 'boob man' before nonsensically claiming that "being a butt man is just a gateway to homosexual activity." He then goes on to explain that he has "never done anal sex" because he knows what "comes out of that hole."
Roosh is best known as the author of the highly criticized dating book Game, which was banned by Amazon. Additionally, the book was labeled as "anti-feminist" by the Anti-Defamation League and his books have been described as "how-to manuals for sexual predators" by The Huffington Post. Despite criticism, Roosh has maintained a sizable fanbase online but in this case, his video was met with far more criticism than praise.
Comedian Jaboukie Young-White retweeted the video while mocking Roosh's attempt to logically argue that enjoying a woman's butt might cause a man to become gay.
User @classiclib3ral noted that the source of Roosh's conspiratorial ranting stems from watching a Cardi B music video because everyone knows sexual orientation is a choice and obviously the number one contributing factor in whether or not a person is gay is what music videos they watch.
And finally, @LesPasDeBras rightly noted that Roosh is reminiscent of that crazy uncle who ruins holidays with his Alex Jones-esque ranting and raving.
While it's unlikely that the hundreds of tweets mocking him will do anything to slow down Roosh's penchant for spouting offensive opinions that have no basis in fact but at least we can all have fun laughing at a man who sincerely claims that liking a woman's butt is making straight men a relic of the past.
This article was originally published on