Ashton Kutcher Says His Family Game Nights Are "Genuinely Hard"
Ashton Kutcher admits that his family game nights are challenging — not just for the kids, but for him, too.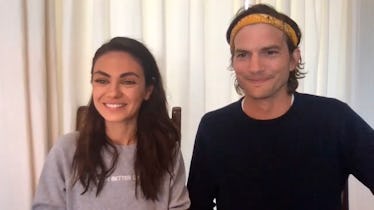 NBC/NBCUniversal/Getty Images
Raising kids means you revisit some things you loved to do as a child. For Ashton Kutcher, it appears he's been revisiting the magic of board games. He plays them regularly with his wife, Mila Kunis, and their two kids. And although his kids are still young, Kutcher admits that their family game nights are challenging — not just for the kids, but for him, too.
Speaking with E! News, Kutcher shared that he's a happy, proud dad, and he's living the dream. He and Kunis are parents to two kids, a daughter Wyatt, 8, and their son, Dimitri, 6, and he enjoys spending time with them.
Kutcher told the publication that he and Kunis spend a lot of time with the kids. And one of the things he and Mila enjoy doing as a whole family is playing board games. But don't let his kids' ages fool you — these game nights are "genuinely hard," according to Kutcher.
"We spend a ton of time together as a family and play a lot of board games," he explained. "My kids have found this game called Beat the Parents that they love, where they get to wager something and we wager something against them, and it's genuinely hard for the parents and genuinely hard for the kids."
Beat the Parents is a trivia game in which the kids play against their parents, wager something big — like, say, taking out the trash for a week — and do trivia games about each other's generations as well as physical challenges. It sounds like a lot of fun — maybe more fun than another game Kunis and Kutcher invented called "Happy Trash."
Kutcher also spoke to the publication about life as a dad, and just how much he loves his kids, and how thankful he is to have his family.
"I love my family so much," Kutcher shared. "I love spending time with my kids. I love my wife so much. I'm the most fortunate human being that I know, and I could take all my problems, put them in the middle of the room with everybody else on the planet's problems, and I'd go get mine back because I love my problems, and I love my joys. I wouldn't give it up for a minute."