The Coolest Sky Stuff Happening This April: Meteor Showers, Pink Moons
Don't miss any weird sky stuff happening this month.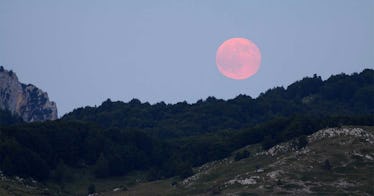 Another month has somehow come and gone and April is officially upon us. And while the continuing passage of time may feel daunting, there is a silver lining to a brand new month on the calendar: a whole new month of the sky getting really beautiful and really weird. It can be tough to keep track of all the sky happenings but luckily, we compiled a list of a few of the must-see sky moments happening in April.
Here is what you'll want to see in the sky — and when you will want to head outside and give the stars a good looking.
April 1-7
Sunday, April 4: Asteroid 9 Metis at Opposition. The first major sky event to happen in April is Asteroid 9 Metis, believed to be a large remnant of a very old asteroid collision, will be at opposition. This means that the sun will make Asteroid 9 Metis extra visible at night and if you have a telescope, you should be able to get a great view of the asteroid on the night of April 4. It can be seen in the constellation Virgo.
Tuesday, April 6: Moon in conjunction with Saturn. In the early hours on Tuesday morning, you should be able to get a great view of Saturn, as it will be in conjunction with the moon, making the two appear close together and giving the planet an increased brightness. Unfortunately, you would likely need to be up pretty early (or stay up pretty late) to get the best look but if you are, it should be a pretty spectacular sighting.
April 8-14
Thursday, April 8: Moon in conjunction with Jupiter. Just a few days after the moon is in conjunction with Saturn, it will be in conjunction with Jupiter. Similarly, the best view will likely be in the early hours of the morning.
April 9-21
Wednesday, April 21: Lyrid Meteor Shower. One of the oldest known meteor showers is expected to reach its peak in the United States on the night of April 21 and into the morning hours of April 22. According to EarthSky's guide, the peak viewing hours will be between midnight and dawn, as the darkness of the sky will allow you to get the best look at any shooting stars.
April 22-30
Monday, April 26: Pink Moon. Pink Moon is the name for April's full moon and it is an event that you really do not want to miss. The Pink Moon will reach its peak illumination at 11:33 pm EST.
This article was originally published on