WWDC 2023 Apple Upgrade Makes Managing Screen Time For Kids A Helluva Lot Easier
Apple recently shared a look at its plans to help reduce eye strain on kids who use their tablets, watches, and phones.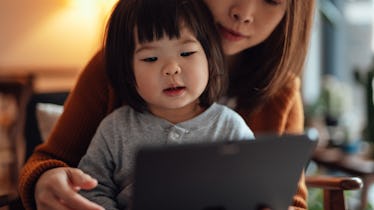 Oscar Wong/Moment/Getty Images
Yesterday, Apple held its annual Worldwide Developers Conference (WWDC), where the company announced a slew of new products and iOS features coming soon across the brand. At the conference were some huge announcements that have a lot of people excited: mixed reality goggles called the Apple Vision Pro, a 15-inch M2 MacBook Air, major upgrades to watchOS 10, iPadOS 17, and Apple TV — plus a whole lot more. But there were two new features that might have flown under the radar: health and accessibility features that protect kids' eyes.
According to Engadget, at the WWDC, Apple shared a look at its plans to help reduce eye strain on kids who use the brand's tablets, watches, and phones. To do this, they're introducing a new daylight sensor and alerts to let kids and parents know to move the screen farther away from their eyes.
"Myopia, or nearsightedness, is the leading cause of vision impairment globally," Apple shared in a press release. "It's estimated to affect over 30 percent of the population currently and expected to grow to 50 percent, or 5 billion people, by 2050."
According to Apple, eye care providers say there are two "key behaviors in children to help reduce the risk of myopia." The company has taken those two recommendations and built them into its products: encouraging more time spent outdoors and increasing the distance at which kids view their screens.
One of the new features coming to the Apple Watch will use an ambient light sensor to measure and track how much time the wearer spends in daylight to encourage kids and families to prioritize spending at least 80-120 minutes a day outside, which has been shown to reduce the risk of developing myopia.
"Children who do not have their own iPhone can use Family Setup to pair their Apple Watch to their parent's iPhone, giving parents visibility into the amount of time their kids are spending in daylight with Health Sharing," Apple explains.
The second feature coming to Apple products to reduce the myopia risk of children is screen distance detection. Using the same technology behind Face ID, the screen will alert users to move their screen further away if they've been holding it closer than 12 inches to their eyes for an extended time.
"Screen Distance can remind younger users to engage in healthy viewing habits that can lower their risk of myopia," Apple shares, "and it gives adult users the opportunity to reduce digital eyestrain."
A full release of these features and others announced at WWDC will likely arrive in September 2023.