Apple Might Owe You $25 for Slowing Down Your Phone
The company has agreed to a $500 million settlement and some of that is owed to you.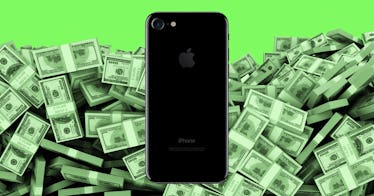 apple.com
If you owned an older iPhone, you might be entitled to some cash from Apple. The company has agreed to a $500 million settlement after a class-action lawsuit was launched, alleging Apple purposely slowed down older models of their phones. After months of negotiations, the figure was filed by the courts and awaits approval and finalization by U.S. District Judge Edward J. Davila on April 3. Here's what you need to know.
Apple admitted in December 2017 that it used software updates to slow down older iPhone models, but only after customers alleged this was happening after updating their phones. It was suggested that Apple did this on purpose to encourage or force users to upgrade to a newer model, but the company denied that.
Apple stated that the updates and slowing of the phones were to address issues with the older lithium-ion batteries. They first tried to sell iPhone users a newer battery replacement, which sold for $79. The company later lowered the price to just $29 for a newer batter in January 2018. This later developed into a class-action lawsuit, and now Apple is settling with their customers.
The settlement will require Apple to pay the owners of specific iPhone models $25 for every affected device. The total settlement will be a minimum of $310 million and will cap out at a maximum of $500 million, according to documents released on Friday in US District Court in San Jose, California.
The $25 payout isn't set in stone and could change depending on how many people file a claim – the number could be more if fewer people file, or less if the total will exceed $500, the individual payout will be reduced.
So, if you owned an iPhone 6, iPhone 6 Plus, iPhone 6s Plus, iPhone 7, iPhone 7 Plus, or iPhone SE you could be entitled to some cash from Apple. More details on how to file will become available once the final approval of the settlement is met on April 3rd.
This article was originally published on