Apple Is Rebooting '90s Kids Show 'Ghostwriter' and We Have Questions
The beloved show is coming back...but is this even the same show?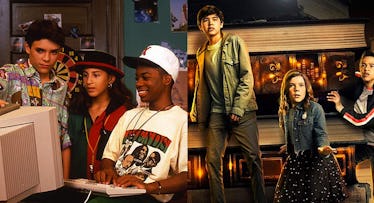 PBS/Apple Tv
In the mid-nineties, a bunch of kids from Brooklyn teamed-up to solve mysteries together with the help of a ghost who could communicate only through an old-school computer. If you don't remember Ghostwriter, that's okay, but it was one of the bolder kids' shows of yesteryear. Basically, it had a diverse cast of kids, a computer ghost and a focus on literacy. What more could you ask? Well, if the answer to that question is: I'd like a reboot series please, you're getting your wish.
Today, Apple revealed the first photo and synopsis for a new version of Ghostwriter coming to Apple TV's new Apple+ streaming service on November 1.
Like its '90s predecessor, this Ghostwriter produced by the Sesame Workshop, which is also producing a new coding-themed Muppet show called The Helpsters. But, is this Ghostwriter even the same premise? The write up says: "What would you do if a haunted bookstore began releasing fictional characters into your neighborhood? The young heroes of Ghostwriter decide to chase the truth." Um…that's not exactly the same premise of a ghost who lives in a computer that helps kids solve mysteries? True, this sounds like it retains a bookish angle, but it's also very clearly, different?
Releasing fictional characters into the real world sounds dope — and has been a common trope in all sorts of kids stuff from The Real Ghostbusters to old episodes of Ducktales. Which fictional characters will the kids meet first? And will the titular ghost of Ghostwriter actually be the ghost of a fictional person or real one? If you've got to place bets right now, it seems like the ghost of Sherlock Holmes is a forgone conclusion for like the very first episode. And, if Apple had any sense, they'd call Robert Downey Jr. or Benedict Cumberbatch right now.
Ghostwriter will stream on AppleTV+ on November 1st. Check out the line up of other shows here.
This article was originally published on