Apple iPhone Face ID Won't Work With Face Masks. Here's How to Fix It.
Here's how to turn it off.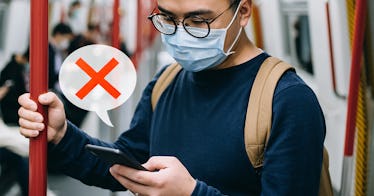 If you use Face ID technology to unlock your iPhone, you've probably noticed that it doesn't work while wearing a mask. Your options are to remove the mask to unlock your phone — which kind of defeats the purpose of wearing a mask — or turn off the feature.
We suppose that eschewing masks is also an option, but it's not one you should consider. There is evidence that even non-medical masks can slow the spread of COVID-19, and the CDC issued an official recommendation last week that all Americans wear a face mask of some sort when out in public.
So the responsible thing to do is to turn off Face ID for the time being. Thankfully, it's a pretty easy feature to disable. All you need to do is open the Settings app on your iPhone, scroll down and tap the Face ID & Passcode menu, and enter your passcode when prompted.
Here, you'll see a list of features you can use Face ID for; iPhone Unlock, the App Store, Apple Pay, Password AutoFill, and an option to view a list of the third-party apps that you've authorized to implement the feature. You can decide if you want to keep Face ID enabled for some of them, which might make sense if there are certain things you only really do in the mask-free comfort of home.
Alternately, you can completely turn off Face ID until the pandemic subsides. To do this, simply tap Reset Face ID, keeping in mind that to set it up again you'll have to rescan your face once the crisis subsides.
This article was originally published on