Adorable! Watch Andrew Wiggins' Daughter Light Up When She Sees Him On Screen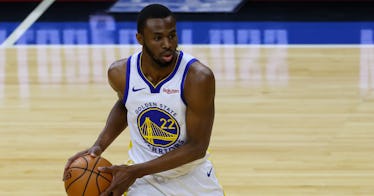 Rich Schultz / Contributor / Getty Images
NBA star Andrew Wiggins' has a lot of support from his fans as he attempts to make the 2022 NBA All-Star team. But his daughter is probably his biggest fan and his best supporter. And a video of her support is going viral because it's absolutely adorable.
A lot of us wonder what the lives of celebrities is like. They're noticed everywhere they go. Their homes are bigger, their opportunities are larger. And their kids are probably living in a different reality than our kids. But do kids of celebrities and sports stars know the extent of their parent's fame? They're just mom or dad, after all. And that's what makes this viral clip of Andrew's daughter so adorable – he's just dad, except he's not.
Andrew Wiggins plays for the Golden State Warriors and as his fan base grows, his daughter remains his number one supporter. Wiggins has been scaling up the fan voting charts for the 2022 NBA All-Star Game and his family has been by his side.
Andrew's girlfriend, Mychal Johnson, submitted an All-Star vote for him while at the stadium with their daughter. When a video flashed up of Andrew on the videoboard at the game, Mychal caught her daughter's reaction to seeing her dad on the screen. It's adorable because we can literally see her whole face light up.
"Daddyyyyyy," the little girl shouted with the biggest smile on her face. Mom shared a clip of her daughter's reaction on Twitter and her support probably means the world to Andrew.
Melt, right? She's so proud of her dad!