NFL Star's Reaction To His Daughter Reading a Book at Super Bowl is *Chef's Kiss*
A photo of Andrew Whitworth's 7-year-old daughter ignoring the game and enthralled in a book went viral.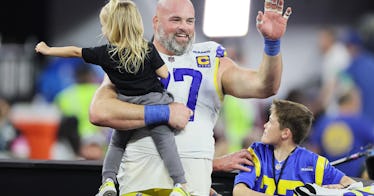 Andy Lyons / Staff / Getty Images
It was a thrilling weekend for Los Angeles Rams fans as the team took home the win against Cincinnati at the SoFi Stadium. The in-person crowd was glued to every play and excited to watch it all unfold and for the players, including Andrew Whitworth, the win was a highlight of their careers. But there was one person in the audience who wasn't interested in football – and her dad Andrew Whitworth was playing.
The Super Bowl was a major event for Whitworth, who plays offensive tackle for the Rams. Not only did he help to clinch the win for his team, but he also won the NFL's Man of the Year award for 2022. His family was at the game — a major event in what's rumored to be his last season — and while his accomplishments were incredible, there was someone else in his family who had some viral spotlight that day, too. Andrew's youngest daughter, 7-year-old Katherine. During the Big Game, a photo of Katherine went viral on Twitter. She was sitting with her family who were all glued into the game. But she wasn't. Instead, she was sitting with a book on her lap, reading and ignoring everything going on around her.
NBC NewsToday,