Americans Are Probably Going to Put Their Child Tax Credits in Savings
A recent survey suggests families will save. Here's why that's a good idea.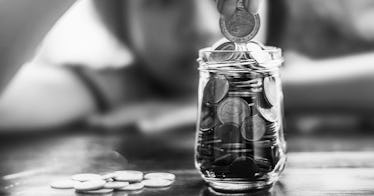 Eligible families will begin receiving their advanced child tax credits this month of a few hundred dollars a month per kid, and according to a recent survey, the majority of recipients plan to put the money into savings rather than spending it.
Stash, a personal finance app, surveyed over 1,100 Americans and found that about 57.5 percent of those surveyed expected to put the money into savings, while 42.5 percent said that they would likely spend the money. Women (60 percent) were overall more likely to save than men (54 percent). A little over half of those who plan to save said they would put the money into a standard saving account, while about 30 percent planned to invest it or put it into a retirement account.
Those who plan to spend their advanced child tax credit are not expecting to blow it on luxury items or their lavish lifestyle. Instead, 52 percent said that they will likely spend the money on paying their monthly bills or outstanding debts. Those who are planning on buying items will overwhelmingly be making purchases for their children, with 32 percent saying they would be buying school supplies or other items for their kids. Meanwhile, only 4.2 percent said they would be spending the money on personal wants, like clothing or travel.
Stimulus payments like these have proven to provide significant financial relief to Americans, especially during the pandemic. According to research from the University of Michigan, the stimulus allowed for a 40 percent reduction in food insecurity, a 45 percent reduction in financial instability, and a 20 percent reduction in adverse mental health symptoms from December 2020 through April 2021.
Putting money away, then, will functionally do the same thing — let parents have a rainy day fund for if their kid breaks an arm or needs braces, or gives them a cushion for any unexpected expense, or what have you.
The new child tax credit allows working families to collect up to $3,000-$3,600 per child in 2021. If you are unsure if you're eligible, you can check the Advance Child Tax Credit Eligibility Assistant, an online questionnaire that parents can use to see if they qualify for the new Child Tax Credit advance payments