The House Just Sent The Stimulus Package to Biden. Here's What's Next
Biden has to sign the package, and then, you get your checks.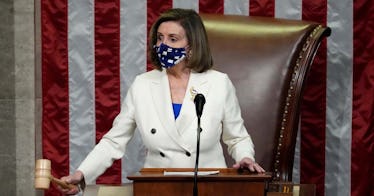 Getty
President Biden is about to sign the newest stimulus package into law. Based on previous timelines this means you could see direct-deposit checks as early as Monday, March 15, 2021. That's not confirmed, but based on how this has happened before, it feels likely. Here are all the details.
In the afternoon of Wednesday, March 10th, the House of Representatives approved the final passage of the COVID-19 stimulus package that President Joe Biden introduced to the world in January. The American Rescue Plan, passed by the Senate in a razor-thin majority and by the House in a slightly bigger one, provides much-needed relief to Americans, ranging from direct cash payments to grants to local and state governments to funding for vaccine sites and production. But now that the House has passed the bill, President Joe Biden needs to sign it. When will he, what's in the package, and when will you get your stimulus checks?
When Will Biden Sign the Bill?
According to White House Press Secretary Jen Psaki, President Joe Biden intends to sign the bill into law on Friday.
What's in the Bill?
$300/week extended unemployment insurance until September 6th, making the first $10,200 in federal unemployment tax-free
$1,400 stimulus checks to single filers under $75k, dual-income at $150k, phasing out by $80k and $160k respectively
SNAP assistance increased by 15% through September
Billions in vaccination, contact tracing, and testing funding
Monthly child tax credit payments that will give families $3,600 per kid under 6 and $3,000 per kid between 6 and 17 for up to one year
$350 billion in state, local, tribal relief funds
$120 billion to K-12 schools to help them reopen
Billions in rental assistance and mortgage payments
Affordable Care Act subsidies and assistance
A tax credit to incentivize employers to keep people on the payroll
$30 billion in restaurant aid
What's Not in the Bill?
As always, the $15/minimum wage hike was slashed from the bill.
When Will You Get Your Stimulus Checks and Monthly Parent Allowances?
The stimulus checks should start going out extremely quickly after President Biden signs the bill — in past iterations, it's taken days for the checks to go out, and the IRS has 17 days to get them to everyone. As for the monthly parent allowances, expect to see that hitting accounts by July.