Biden's July 4 Vaccine Goal Won't Happen. Here's What That Means
America is going to miss Biden's deadline as vaccine rates have slowed down in June.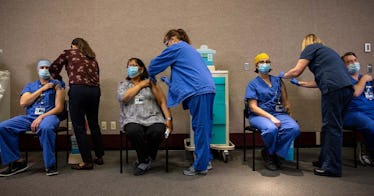 GETTY
Back in May, President Biden declared his goal of 70 percent of American adults to have received at least one dose of the vaccination by July 4. With June coming to a close, we are getting close to Biden's deadline. So are 70 percent of American adults going to be partially or fully vaccinated by the Fourth of July? Here is what you need to know.
Biden Isn't Going to Reach His Goal
When Biden originally declared his July 4 goal, it seemed like an attainable timeline, as 3 million doses were being administered per day. But now, it's become clear that is not going to happen, as vaccine rates have slowed down significantly in June. According to the CDC, 65 percent of Americans over the age of 18 have received at least one dose but it's going to take longer than originally anticipated to get to 70 percent.
What Went Wrong?
When you look at the vaccination rates, you can see that there is a major difference between young people and older people. Seventy percent of adults above the age of 30 have already received at least one dose, and people 27 and older are expected to cross 70 percent by July 4, making them functionally not the problem. But the vaccine rate for people 26 and younger is lower, and has slowed down significantly. Vaccine hesitancy among young people is a problem.
There is also a growing geographical divide, as several states on the coasts have already crossed the 70 percent threshold, while many states in the Midwest and South are nowhere near reaching that rate.
When Will We Reach 70 Percent?
The good news is that while America is behind Biden's timeline, we aren't behind by much. Experts believe that 70 percent of adults will have received at least one dose by late July or early August. And even better, 160 million Americans will be fully vaccinated by mid-July, which is good news.
Does Meeting That Goal Really Matter?
Unfortunately, as the Delta variant, a deadly and highly transmissible variant putting young people in hospitals rises, unvaccinated pockets across the country are at higher risk than more vaccinated pockets. This is a major problem and makes the urgency for Biden's previous vaccine goal all the more important.
Though the July 4 deadline was largely symbolic and health officials, including Dr. Fauci, have downplayed the importance of meeting that goal as we approach the end of June, the Delta variant does pose a problem for those who aren't vaccinated. Still, falling a little bit behind Biden's timeline should be okay, assuming that vaccination rates do not drop too significantly.
On Tuesday, Fauci noted that Americans need to stay focused on "the ultimate goal of crushing the outbreak completely in the United States." For that to happen, unvaccinated Americans will need to get vaccinated over the next couple of months to ensure that COVID rates do not increase, especially due to variants.
What Will July 4 Look Like?
Despite falling short of Biden's goal, July 4 is shaping up to be a relatively normal holiday for Americans. Many states have begun easing COVID-19 restrictions as vaccination rates have gone up and it is estimated that up to 43 million Americans will be traveling for the holiday weekend, a massive number of Americans traveling after a year of basically staying put. And while kids should always continue to wear masks until they, too, can be vaccinated, vaccinated people should feel safe barbecuing with other vaccinated loved ones and maybe even catching some fireworks.