WTF? AmazonSmile Reportedly Donated More than $40K to AntiVaxx Groups
Critics feel that with these donations, Amazon's charitable arm is contributing to spreading misinformation about the vaccine.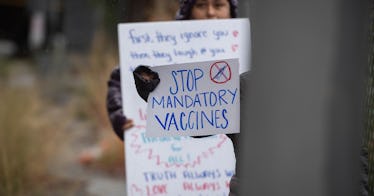 GETTY
AmazonSmile, the company's charitable program, reportedly donated more than $40,000 last year to anti-vaccine groups, causing many to criticize Amazon for contributing to spreading disinformation in regards to the COVID-19 vaccine.
In 2020, AmazonSmile donated over $60 million to nonprofits, as the program donates 0.5 percent from purchases to designated nonprofits. Popular Information and the Washington Post both analyzed the donations and found that several non-profits that are anti-vaccine were included in AmazonSmile's donations, totaling over $40,000.
Now, compared to $60 million, $40,000 is not that much. But Peter Hotez, dean for the National School of Tropical Medicine at Baylor College of Medicine, said that he was surprised and disappointed to find that Amazon would provide any amount of financial support to these non-profits that are working against people receiving their vaccinations. "That's really shocking," said Hotez. "That's incredible that Amazon is supporting those groups."
Amazon has yet to address the allegations that it has been donating to anti-vax groups.
One of the primary groups that received funding was the National Vaccine Information Center (NVIC), which has been criticized for discouraging people to get vaccinated "due to perceived dangers that are not accepted by science." NVIC's co-founder Barbara Loe Fisher has previously argued that the government use of vaccines is meant to "bring back eugenics and take over health care."
The group has also downplayed the severity of the pandemic in general, criticizing the United States for "cowering in fear before a virus that does not cause any symptoms or complications in the majority of children and adults under the age of 65, and has a mortality rate of about one percent…"
According to the American Academy of Pediatrics, anyone supporting the NVIC is "putting the lives of children at risk, leaving them unprotected from vaccine-preventable diseases." And with AmazonSmiles giving this amount of money, it's no surprise there's been blowback.
This article was originally published on