Amazon Prime Just Made a Bunch of Kids' Shows Free
You don't even need a Prime account to watch these shows.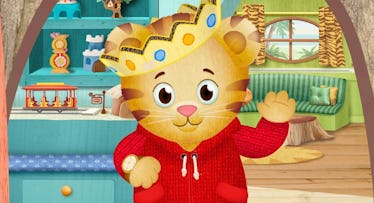 Credit: PBS
We're in the middle of our second week of quarantine, and it's not looking like it's going to end any time soon. With that, many companies are stepping up to give families some entertainment and education materials for free or at a very discounted price. Amazon Prime is jumping in to help and just made a bunch of their kids' shows free to watch. Here's what you need to know.
Amazon has lifted their paywall and are now offering their Prime kid shows for free. You don't need a paid Amazon Prime account to access these titles, but you do need to sign up for a free Amazon account. The company has unlocked 40 children shows through Amazon Prime, and another 80 movies through IMDb TV, which is owned by Amazon.
Popular TV shows that parents won't mind their kids streaming include Daniel Tiger's Neighborhood, Arthur, and Pete the Cat. The company has created a landing page where people can see what titles are available now for free, and here's what you can expect on Amazon Prime.
Free for Preschool Kids
Pete the Cat
The Stinky Dirty ShowIf You Give A Mouse A CookieBug DiariesCreative GalaxyJessy and NessyTumble LeafWishenpoofAnnedroidsBookabooDino Dana
Free for kids 6-11
Click, Clack, Moo
Costume QuestDanner & EggsThe Dangerous Book for Dangerous BoysGortimer Gibbon's Life on Normal StreetJust Add MagicMystery CityLittleBig AwesomeLost OzNiko and the Sword of LightThe Snowy Day
PBS Kids Series for free
Daniel Tiger's Neighborhood
ArthurBaliCaillouCyberchaseDesign SquadDinosaur TrainFetch! With Ruff RuffmanKratts Creatures Martha SpeaksNature CatOdd SquadPeep and the Big Wild WorldPeg + CatPostcards From BusterReading RainbowReady Jet GoWild KrattsWordGirlWordWorldZooboomafoo
There are plenty of titles here that have a wonderful education spin, so parents don't need to feel any bit of guilt if they play WordGirl or Bug Diaries on repeat so they can get some work done, or just relax for a minute.
This article was originally published on