Alex Trebek's Wardrobe Gifted To Homeless Organization For Job Interviews
Giving in kind even when he's gone.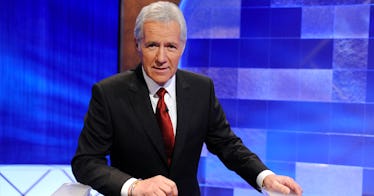 Getty
The world truly lost an amazing person when Alex Trebek passed away on Nov. 8, 2020. He was one of the faces many of us saw for decades on television almost every day, and his legendary status wasn't just cemented by the fact that he hosted one of the most popular TV game shows of all time. He also just seemed like a very genuinely good person. And that's proving to be true even in his death. Apparently, the late star gifted his wardrobe to an organization that will be able to use them for good — making one of his final acts an extremely charitable one.
According to CNN, the family of the late Jeopardy! host made a donation to honor Trebek's legacy in a way that will have a positive impact on many. Trebek's wardrobe will be given to The Doe Fund, which is an organization that provides continuing education, vocational training, social services, housing, and paid work to those who have a history of incarceration, addiction, and experiencing homelessness.
"During his last day on set, Alex extolled the virtues of everyone opening up their hands and their hearts to those who are suffering," Mike Richards, the game show's executive producer, said in a press release, according to the news station. "Donating his wardrobe to those who are working to rebuild their lives is the perfect way to begin to honor that last request."
In total, the family donated well more than a handful of Alex's stylish closet. The donations included three pairs of dress slacks, 15 belts, 14 sweaters, 25 polo shirts, 58 dress shirts, two parkas, nine pairs of dress shoes, 58 dress shirts, nine sports coats, four full suits, and 300 neckties. These items will be used to help those in need in the reentry program at The Doe Fund for job interviews.
"We are so grateful for Jeopardy! and the Trebek family's commitment to lifting up the most vulnerable among us," Harriet McDonald, president of The Doe Fund said. "The men in our career training programs are always in need of professional attire, so they can shine in their job interviews and work with confidence once they're hired. This donation alleviates the obstacle of not having appropriate clothing."
Imagine the confidence of walking into a job interview knowing you're wearing the suit of Alex Trebek. What a kind gesture.