Alex Trebek's Posthumous Message for Thanksgiving Was a Gift
"We're going to get through all of this."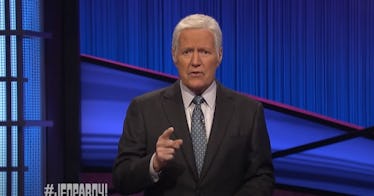 Credit: Twitter / @Jeopardy
Alex Trebek is still inspiring millions of people weeks after his death. This year has been challenging for so many and the stress and fatigue have set in around the country. As host of Jeopardy!, Alex has always been a source of entertainment, and while watching the game show, we knew there would be at least one moment that made us smile. Alex had that way about him in life – and in death, too. Most recently, a posthumous message he recorded was shared, and it was a Thanksgiving gift.
The official game show account tweeted a clip from the Thanksgiving episode of Jeopardy! before it was set to air later that evening. Alex had pre-taped several episodes before his death from pancreatic cancer on Nov. 8 — and this was one of them.
On each episode, Alex would always sign-off the end of the show by addressing the viewers. On this pre-taped show, his address made it seem almost like he knew exactly what people would need to hear at this time of year.
In the clip, posted on Nov. 26, Alex's voice was noticeably raspy. It was honestly one of the only cues we have seen that showed he was indeed sick. Without outrightly mentioning the global pandemic, Alex said, "Happy Thanksgiving, ladies, and gentlemen. You know, in spite of what America and the rest of the world are experiencing right now, there are many reasons to be thankful."
He continued, "There are more and more people extending helping hands to do a kindness to their neighbors, and that's a good thing. Keep the faith. We're going to get through all of this, and we're going to be a better society because of it."
Along with tweeting the clip, the Jeopardy! account shared its own message, writing, "High on our list of things to be thankful for this year: Alex's Thanksgiving message from today's show. We hope you have a safe and happy Thanksgiving!"
According to Vox, Jeopardy! producers said that Alex had taped 35 episodes in the weeks leading up to his death—his last being a week before he died. New episodes featuring Alex as the host will continue to air until the final one is broadcast on Christmas Day. Hopefully, we will get a few more gems like this one.
Jeopardy! currently airs at 7:30 pm EST on weeknights on ABC.
This article was originally published on