Alex Trebek Is Beating the Jeopardy of Cancer; Has Finished Chemo and Is Back To Work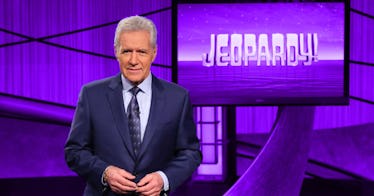 NBC
The answer is Alex Trebek, but the question is: what is a badass? After finishing chemotherapy, the host of Jeopardy!, Alex Trebek, is apparently "on the mend" and headed back to work.
On Thursday, multiple outlets reported that Trebek was "back in action" after the popular host posted a video announcing his return to the show. Previously, Trebek had been diagnosed with stage 4 pancreatic cancer back in the Spring. But now, it appears he's going to be okay.
Trebek will return to host Jeopardy! for its new season on September 9. This will be the 36th season of Jeopardy, and though last season was dominated by an amazing winning streak from crafty gambler James Holzhauer, it seems like the only person with the real streak of resilience is the master of answers himself; Alex Trebek.
Check out our guide to the best of Jeopardy! on Netflix right here.
This article was originally published on