Alex Trebek Loved Iconic SNL 'Black Jeopardy' Skit
"He was patting me on the back about that."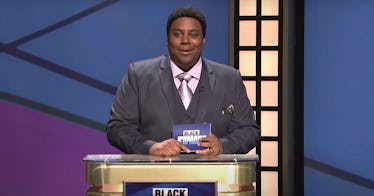 Saturday Night Live has been on the air for 46 years. And with it, we've been gifted several iconic recurring skits that continue to be hilarious year after year. Jeopardy! has proven to be good fodder for the comedians on the show, first appearing with Will Farrell as Alex in Celebrity Jeopardy! But one of the funniest skits on SNL was Black Jeopardy.
In this parody, Kenan Thomson played the Alex character, named Darnell Hayes (who nicknamed himself Alex Treblack). The skit was always hilarious, and it is instantly iconic. Vulture explains the sketch as "[showing] us that Black culture is simultaneously esoteric and universal all at once."
Black Jeopardy first debuted on March 29, 2014, and it kept true to the original game show format. There were three contestants, one who was typically white and always confused, and a board full of unique categories.
It's probably not easy to play a characterization of another famous person. And especially when the person is as well-liked as Alex Trebek was. Thankfully, Kenan was able to hear from Alex himself how much he enjoyed his Jeopardy! parody.
On the February 25, 2021, episode of Hot Ones, hosted by Sean Evans, Kenan was in the hot seat to eat wings and answer some questions. Sean asked Kenan about a conversation he had with Alex Trebek at the 2019 NHL Awards and if the two had spoken about the Black Jeopardy SNL sketch.
According to Kenan, Alex was a fan of the whole thing and had commended him for doing a great parody.
"He was patting me on the back about that, but I was patting him on the back for probably being one of the smartest people in the world," Kenan said. "Because it seems like he knows the answer to all of those Jeopardy questions. He has a way of responding to each question like, 'No, of course, it's this, and that, and the other, because I read this book or I've known about this historic town in Rome.' You know what I'm saying? He was incredible."
Alex seems like he would be the type of person to take a good joke. He did make a cameo in the original SNL spoof of Celebrity Jeopardy! so we're not surprised to hear he loved Black Jeopardy, too.