Booze Sales Surge As Americans Stock Up for Quarantine
Online alcohol sales are up a whopping 243 percent.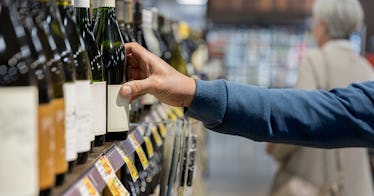 Coronavirus restrictions are wrecking the economy, but after some earlier hiccups, one sector just enjoyed a huge spike in sales largely due to the effects of the pandemic.
According to data from market research firm Nielsen, alcohol purchases were up 55 percent from the second week of March to the third. Beer, cider, and flavored malt beverage sales were up 42 percent; wine sales 66 percent; and liquor sales a whopping 75 percent. Even more strikingly, online alcohol sales increased by 243 percent from the same period a year ago
Danelle Kosmal, Nielsen's vice president of beverage alcohol, called the week ending March 21 the peak of "consumer pantry-loading time." Now that everyone has stocked up, they won't need to buy more booze for a while. And when they do will differ from person to person, making it unlikely that there's the kind of coordinated rush on stores spawned by last month's imposition of shelter-in-place and similar regulations around the country.
Supporting this theory is the fact that increased beer sales were strongest among larger formats — 30-packs up 87 percent and 24-packs up 90 percent — with six-packs up just 16 percent.
There are probably several different reasons people decided to build up their home supply. One is that, with bars and restaurants closed, all alcohol consumption is now home alcohol consumption, and the money saved on hospitality businesses (and, for those working from home, commuting) can go to filling up the liquor cabinet.
There's also a fear that coronavirus restrictions could close stores or cause supply shortages. In a sense, stocking up on bourbon and gin made as much sense as stocking up on toilet paper did.
But before you go out and put all of your money in Diageo and Anheuser-Busch stocks, know that this spike is primed to subside.
"Data for the week ending 28 March will be very telling, and I think it will be a better indicator of the new normal in how consumers are responding to the crisis and their new normal, centered around the home," Kosmal said.
This article was originally published on