Alabama Senate Passes 2 Anti-Trans Bills Aimed at Trans Youth
The state passed an anti-trans bathroom bill with a "Don't Say Gay or Trans" addendum, and a law that would make gender-affirming care for people up to age 19 a felony.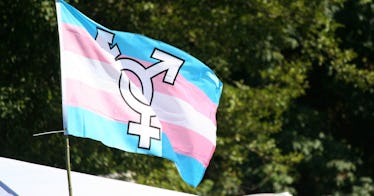 Tracey Quirk / EyeEm / Getty Images
Amid a national surge of proposed, and passed, anti-trans legislation that targets the rights and lives of trans kids and their parents, the Alabama Senate has approved two new bills that will limit the rights of transgender youth and other LGBTQ+ kids in the state.
The first bill is a dual bill of sorts, Alabama's own version of Florida's so-called "Don't Say Gay or Trans" bill. It's been paired alongside a bathroom ban that will require students to use the bathroom and locker room that correspond with the sex they were assigned at birth.
The bill did not originally contain a "Don't Say Gay or Trans" aspect, but it was added as a surprise, last-minute addendum the morning the bill was approved, April 7th, 2022.
Alabama lawmakers also passed a bill that would ban gender-affirming care for trans youth up to age 19. If signed by Governor Kay Ivey, the bill will make providing gender-affirming services to trans youth a felony punishable by up to 10 years in prison.
"If passed and signed into law, Alabama will have the most deadly, sweeping, and hostile law targeting transgender people in the country," Chase Strangio, deputy director for Trans Justice with the ACLU's LGBTQ & HIV Project, told NBC 15 News said before the bills were passed by lawmakers.
"The way to reduce harm to trans youth is to provide them with gender-affirming health care where it is medically indicated. This bill takes that lifesaving treatment option off the table and makes it a felony. Moving forward with this bill will be deadly for trans youth, push doctors out of a state that has a shortage of medical providers, hurt Alabama's economy, and subject the state to costly litigation."
The Trans Health Care Ban Law, Explained
The state would make it a felony for doctors to prescribe puberty blockers or hormones to trans kids, punishable by up to a decade in prison. It would also ban genital surgeries on minors except for circumcision and surgeries on intersex children, despite testimony from doctors that genital surgeries are not performed on trans minors in the state.
It would also ban "a nurse, counselor, teacher, principal," or others in the school setting from "encouraging or coercing a minor…[to keep from their parents] the fact that the minor's perception of his or her gender or sex is inconsistent with the minor's sex." And if a teacher learned this from a student, they would also be legally required to out the kid to their parents.
The anti-trans health care ban will have effects not just on trans youth from Alabama, but from across the South as many trans youth travel to receive gender-affirming care at the University of Alabama, Birmingham's gender clinic.
This ban flies in the face of medical consensus that states that access to gender-affirming care is the medical best practice for transgender youth's physical and mental health.
The Bathroom and "Don't Say Gay or Trans" Bill, Explained
Representative Scott Stadthagen, a Republican, said that the bathroom bill isn't about transgender students, according to AL.com. Rather, he said it is meant to protect female students because there have been cases of cisgender male students trying to access the girls' bathroom.
However, if this were truly the case, there is language that could have been used in the bill to protect both cisgender and transgender female students while allowing both to use the girls' facilities.
Vanessa Finney, a parent of a transgender son in the state, complained that not only does the bill encroach on the rights of her child but also that the enforcement mechanism of the bill is suspect.
"How does the legislature propose that schools police students in using the restroom of their choice? Will there be a genitalia check at the door?" she asked the Senate committee, AL.com reports.
The "Don't Say Gay or Trans" addendum to the bill would prohibit the discussion of sexual orientation and gender identity in kindergarten through fifth grade.
Because the bathroom bill had previously been passed by the House before the "Don't Say Gay or Trans" addendum, it must return to the House for final approval, according to the Montgomery Advertiser.
It would still need to be signed by Alabama Governor, Republican Kay Ivey, who last year signed a law banning trans kids from playing for sports teams that corresponds to their gender. The anti-trans health care bill has already been sent to Ivey's desk.
In response to the bills being signed, the American Civil Liberties Union (ACLU), Lambda Legal, and the Transgender Law Center announced they would sue the state if the bill was made law. They released a statement saying that "threatening providers with prison time or fines as a result of their dedication to their patients is ruthless…Above all, our goal is to ensure that trans youth become trans adults, and bills like this are antithetical to trans people thriving in this country."
This article was originally published on